Posted on
Sun, Apr 28, 2013 : 5:58 a.m.
Ypsilanti to decide on delayed $1.2M Family Dollar purchase agreement in May
By Katrease Stafford
Ypsilanti will decide in May whether to move forward with the proposed $1.2 million Family Dollar development on Water Street. However, the purchase agreement may include several changes that Family Dollar's developer, Core Resources, will have to consider.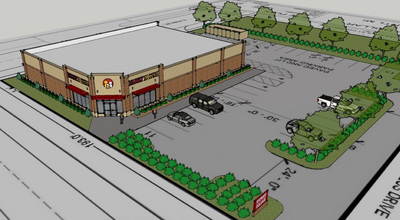 Courtesy City of Ypsilanti
The council voted to delay the decision at its March 19 meeting after several concerns were raised.
Council was slated to consider the agreement at its Tuesday meeting, but the discussion and vote was delayed until the first meeting in May.
City Planner Teresa Gillotti said the delay was needed to give council time to consider new proposed changes to the site plan.
Potential changes to the site plan include:
A 10-foot sidewalk required on Michigan Avenue and Park Street. The current requirement is closer to five feet.
Parsons to be stubbed to allow for curb cut. No curb cut will be on Park Street.
Changes to parking configuration that may include it being moved to the back of the property.
Street trees along all street frontages.
Built zero to five feet from sidewalk.
As part of the Shape Ypsilanti master plan process, the entire 38-acre Water Street property was looked at for ways to possibly connect it better with the rest of the city and lure more potential developers.
Part of that discussion was the mention of extending River Street through the entire Water Street property to Factory Street to connect the property to the southern portion of Ypsilanti.
Gillotti said if this were done, the changes mentioned above would be needed.
Mayor Pro Tem Lois Richardson said she doesn't understand why all of the changes are needed and that up until this point, the majority of council supported the project.
"Several of us were ready," Richardson said. "... Now you're giving us something that we have to back and look at and work on... We agreed on what we wanted and it was just a matter of attorneys putting it in writing and now we have to go back and rehash everything. I'm not happy with it."
Ypsilanti received a letter of intent from Core Resources, Inc. last November to purchase 1.25 acres of the 38-acre site. The property is owned by the city and Core, on behalf of its client Family Dollar Stores of Michigan, is expected to pay $210,000 to purchase the land.
However, Gillotti noted that the potential site plan changes could affect the land purchase price.
"They (Core Resources) have been pretty accommodating for the most part," Gillotti said.
Yet, Gillotti said she wasn't sure if Core Resources would be open to putting parking in the back of the property.
Richardson and Council Member Ricky Jefferson said they weren't in favor of moving parking to the back of the property, citing safety reasons.
"I don't like that, the parking should stay where it's at," Richardson said. "I would say no to that."
Mayor Paul Schreiber said he was in favor of all of the potential changes outlined by Gillotti.
"I went to a number of sessions for the master plan and learned a lot about walkable communities and how it's designed," Schreiber said. "What i hear from a lot of people is that they would like to have a walkable community."
Carter Good, an Ypsilanti resident, urged council to make sure the Family Dollar development isn't rushed and has all of the city's desired elements. Good referred to comments made by master plan consultant Ian Lockwood, who said the city shouldn't compromise its values by having a "beggars mentality" in order to secure development on the property.
"A valuable Water Street and the commuter train that's coming, will all contribute to the value of the city," Good said. "I think we should value what we have in our city and not be beggars."
Katrease Stafford covers Ypsilanti for AnnArbor.com.Reach her at katreasestafford@annarbor.com or 734-623-2548 and follow her on twitter.