Posted on
Wed, Mar 20, 2013 : 10 a.m.
Ypsilanti to explore middle school International Baccalaureate program in new district
By Danielle Arndt
Parents interested in sending their middle-schoolers to an International Baccalaureate program may have the option at Ypsilanti Community Schools.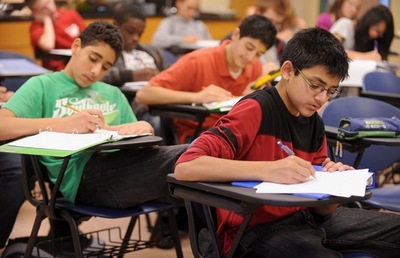 Angela Cesere | AnnArbor.com
The
consolidating Ypsilanti-Willow Run district
has committed to developing
small learning communities
, as opposed to a comprehensive school model, for its middle and high schools. Area residents can provide feedback and take part in the planning process during a forum Saturday.
The meeting will take place from 10 a.m. until noon at Ypsilanti New Tech High School, 2100 Ellsworth Road. Participants can:
Learn more about what small learning communities look like.
Provide input on possible middle and high school options.
Discuss which facilities are best suited for these programs.
Learn about the district's plan for ensuring students graduate with career credentials and college credit.
The joint Ypsilanti-Willow Run Board of Education formally approved Thursday creating three or four learning communities at the middle school and three to five at the high school.
Also on Thursday, the board committed to exploring an International Baccalaureate program for middle-schoolers through a partnership with the Washtenaw International High School. WiHi is a consortium IB program for grades 9-12, which districts in the county can elect to be a part of. IB programs are catered toward students looking for a "world view" and rigorous curriculum that enhances understanding and appreciation of other nations and cultures.
Dexter Community Schools also has a high school IB program. However, the YCS IB program would be the first for middle-schoolers in the county.
One of the small learning communities YCS will have at the high school level will be the New Tech instructional program/model, which both Ypsilanti and Willow Run employ currently at their high schools. The New Tech model boasts a project-based learning approach that allows students and teachers to take ownership of their school experience and environment, according to its website.
The small learning communities at Ypsilanti Community Schools may or may not be co-located within the same building, school officials said. This is a future decision that will be made after gathering resident feedback as well as after a facilities audit has been completed of both districts' existing properties and buildings, said Washtenaw Intermediate School District Scott Menzel, who is serving as a consultant throughout the merger process.
The number of students in each small learning community will range from 120 to 600, depending on the program focus and design, according to board documents.
The joint board also previously approved a partnership with the Washtenaw Community College to create opportunities for high-schoolers to obtain college credit and career credentials prior to graduation.
Danielle Arndt covers K-12 education for AnnArbor.com. Follow her on Twitter @DanielleArndt or email her at daniellearndt@annarbor.com.