Posted on
Mon, Jun 10, 2013 : 5:57 a.m.
Ypsilanti to introduce 24/7 car-sharing program to residents
By Katrease Stafford
The Ypsilanti community will soon have access to a car-sharing program located downtown through Hertz, which will allow people to rent cars by the hour or day.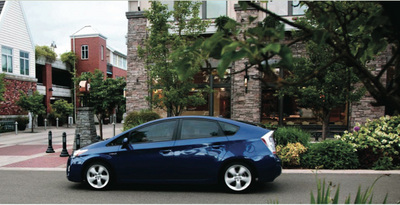 Courtesy Hertz
Assistant City Planner Bonnie Wessler said the Hertz 24/7 program will be available some time in August, although an exact date has not been finalized yet.
The program will begin with two cars being available for rental, but could expand to include more.
"If it's successful, we will look into adding more cars once we have some more usage data," Wessler said.
The cars will be placed in the Washington Street parking lot near the Ypsilanti Transit Center. The city does not foresee any security issues, but will deal with any on a case-by-case basis.
"The transit center itself is pretty safe," Wessler said. "If you look at the statistics, there are not that many larcenies. The AATA does have a security car and security cameras, so we're confident. If anything arises we'll address that."
Wessler said some signage will be placed in the parking lot to signal the program. The city has requested that one of the cars be a hybrid vehicle, but she isn't sure yet what sort of vehicles will be given.
Eastern Michigan University has a similar program in place, Wessler said, which gave the city the idea to try to have the same service available. Wessler said the program is available at no cost to the city.
"Hertz has been in the business of the hourly car rental for a couple of years now, but they've been on the Eastern Michigan University campus for about two years now," Wessler said. "So when we saw them we thought it would be a great opportunity to get them in downtown Ypsilanti."
Wessler believes the program will be used by residents who live downtown as well as business owners and EMU students.
"We have a lot of residents downtown where they have one car per household," Wessler said. "A lot of downtown employers and employees either walk or bike to work."
To use the program, users have to sign up to be a member of the Hertz 24/7 program, which has no membership fee. Once signed up, Hertz will either mail out or have a user come in to pick up a key fob allowing them to use the car. The key fob will only work if it's a user's turn to rent the vehicle.
The fees will be similar to other Hertz programs and likely will have a rate of between $6 and $8 an hour, with gas and insurance being covered by the company.
Wessler said users will be able to reserve the car online and pick out a date and time they prefer to rent the vehicle.
Ypsilanti Downtown Development Authority Director Tim Colbeck said he's in favor of the program.
"The location that the city wants to put it at would put it adjacent to the transit center," Colbeck said. "It's a very useful tool for people that rely on public transit. It's nice to have that temporary use (so) accessible."
Colbeck said the idea to have a car-sharing program also was introduced in the DDA's parking study a few months ago, but the city took the lead.
"We have it in our parking study that says this is something that would be a really good tool," Colbeck said We definitely saw this a year and a half ago and thought that this is a good thing."
Katrease Stafford covers Ypsilanti for AnnArbor.com.Reach her at katreasestafford@annarbor.com or 734-623-2548 and follow her on twitter.