Posted on
Thu, Feb 14, 2013 : 2:59 p.m.
Escalating fights force coney island restaurant to alter hours
By Tom Perkins
Courtesy of the Washtenaw County Sheriff's Office
Early in the morning on Jan. 11, the usual late night crowd gathered at Luca's 24-hour Coney Island restaurant in Ypsilanti Township.
Before long, a fight broke out between two groups of customers, something that's not uncommon at the restaurant at 2469 Washtenaw Ave. As they had 225 times over the last four and a half years, police responded.
But this time, one customer pulled out a gun and put it to the back of another customer's head, police said.
The victim ran into the kitchen, and the man next knocked a waitress to the ground and shoved the gun in her face, police said.
By the time Washtenaw County Sheriff's deputies arrived, everyone at the restaurant except the victims had fled, but surveillance footage clearly showed the fight from multiple angles. A week later, sheriff's deputies arrested 32-year-old Ronjour Jacobs of Ann Arbor on felonious assault charges.
Another man who pulled out a gun during the fight has not been identified by police.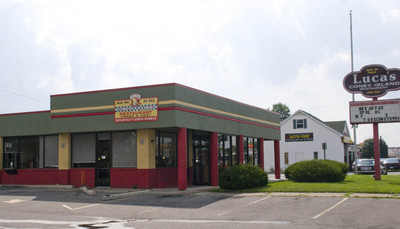 Tom Perkins | For AnnArbor.com
Jacobs faces three charges of assault with a dangerous weapon as well as charges of assault and battery, possession of a firearm during the commission of a felony and brandishing a firearm. He is held on $100,000 cash bond. A pretrial hearing is set for March 4.
The incident led Ypsilanti Township and the Washtenaw County Sheriff's Office to ask the owners to close the restaurant between 12 a.m. and 5 a.m. and threaten legal action if it didn't happen by the end of the week. The township had made such requests previously. Luca's owner, George Gsokas, had complied with the requests in the past but eventually went back to operating in the early morning hours each time.
At their Monday night meeting, the Ypsilanti Township trustrees re-authorized township staff to ask a Washtenaw County Circuit Court judge to declare the business a public nuisance and order it closed during that time period.
But Gsokas said on Wednesday he is willing to permanently close the restaurant between 12 a.m. and 6 a.m.
"I did my best as a business owner to have security, but I don't want to risk it," Gsokas told AnnArbor.com. "I am a very peaceful person and I don't want bad things to happen, not just in the restaurant, but in the whole world. I want to have peace.
"I try my best to make sure to have no trouble, but people coming from bars, they're kind of drunk and it's hard to deal with them. I make this decision to voluntarily close on the third shift."
The restaurant has closed during early morning hours due to similar issues several times in the past; most recently 18 months ago.
There have been 70 calls for service at Luca's since it last closed during early morning hours in August of 2011, and 70 percent of those calls have come between 2 a.m. and 5 a.m. The incidents have included large fights, assault, credit card fraud, disorderly conduct, larceny and more. Neighbors behind Luca's regularly complain about the noise, and police have made multiple driving under the influence and drug arrests.
Additionally, there have been many occasions when all the Sheriff's Office's units were tied up at other incidents in the township and assistance was requested from police in Pittsfield Township, Ann Arbor, the city of Ypsilanti, Eastern Michigan University and the Michigan State Police.
"Needless to say, everything going on there is point-blank unacceptable," Township attorney Doug Winters told the Board of Trustees at its Feb. 11 meeting.
On Feb. 11, township and police officials met with Gsokas and a representative of the Barbara Shipman Trust in Ann Arbor, which owns the building. It's the fourth time the group has met in four years to discuss the problem.
"There are not enough police resources to police this place night after night, and we made it crystal clear the problems had to cease," said Mike Radzik, director of the township's office of community standards,
But after learning on Wednesday that Gsokas had agreed to close, Radzik said he was pleased to close the "negative chapter".
"I am very pleased that (Gsokas) has decided to modify the business hours in the best interest of his employees, customers and the public," Radzik said. "The (Shipman Trust) was instrumental in helping to facilitate this change at the township's request. I am convinced that they want to be a positive example on Washtenaw Avenue and a good neighbor to the residents who live nearby."
Luca's hired security guards after the August 2011 meeting, but officials said it was often those security guards, along with a security guard at a neighboring business and homeowners on Brookside Lane behind the restaurant, who were calling the police.
Police have faced situations in which there were 50 and 60 people, and one or two deputies simply couldn't handle the crowd, so backup had to be called.
"Then you have everyone scattering when the police arrive and the parking lot is chaotic with people trying to leave. After dealing with this for years the only viable solution is the building not being open during these hours," Radzik said.
Tom Perkins is a freelance reporter for AnnArbor.com. Contact the news desk at 734-623-2530 or news@annarbor.com.