Posted on
Sun, Jan 29, 2012 : 5:58 a.m.
Ypsilanti Township apartment complex continues falling to disrepair as officials search for its owner
By Tom Perkins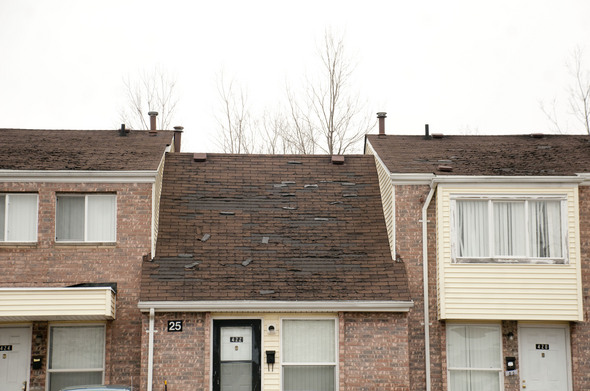 Tom Perkins | For AnnArbor.com
Editor's note: This article has been revised because of the lack of clarity about the ownership of the property.
Who owns the River's Edge apartment complex in Ypsilanti Township?
No one is certain at this point, and, in the meantime, township officials say the property and its buildings are falling into disrepair, prompting officials to search for the owners and prepare to take legal action.
Managers at the 162-unit River's Edge, located on Villa Drive, did not take or return calls from AnnArbor.com, and an investment company to which township officials have mailed a notice of violation said they have never heard of the property.
"It's a bad one," Township Building Director Ron Fulton said of the complex's physical situation.
Among other complaints in a notice of violation dated July 25 are:
Deteriorating and leaking roofs.
Leaking windows.
Missing siding.
Missing trim.
Deteriorating porches that are separating from the buildings.
Sinking footings.
Overflowing Dumpsters.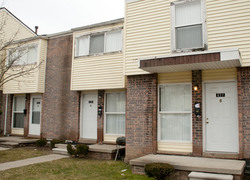 Tom Perkins | For Ann Arbor.com
Fulton said officials contacted the complex's management in May and was informed that the owner was in the process of refinancing his loan. When presented with the extensive list of issues in the notice of violation, the owner promptly sold the complex, Fulton said.
Township records indicate a company called Next Door Apartments is the property's managing agent, but officials believe the property was sold to an investment group. An updated notice of violation was sent to the company, but a secretary there told AnnArbor.com no one in the office was aware of the property.
In the meantime, Township Attorney Doug Winters is awaiting the results of a title search that should reveal who owns the property.
The complex has high occupancy rate, but Fulton said the township receives complaints from residents about leaking roofs and windows. He said staff will ask for approval to take legal action at the next regular board meeting.
"We have struck out in our attempts at compliance and we have no choice but to come before the board (for approval to take legal action)," Fulton said.
River's Edge is one of several problematic apartment complexes in the area. Neighboring Eastern Highland's ownership situation between jailed landlord David Kircher and Barnes and Barnes is in legal limbo. That has left several large buildings neighboring River's Edge vacant, though Fulton said they are secure and safe.
Across the street, Huron View Apartments, which is in the City of Ypsilanti, was hit with a rash of burglaries last year and management had refused requests by tenants for extra locks for protection.