Posted on
Tue, Mar 26, 2013 : 5:58 a.m.
Stewart Beal invests $50K to clean up troubled apartment complex
By Tom Perkins
Tom Perkins | For AnnArbor.com
The raw sewage that once took up a parking spot in front of the MeadowRidge Apartments in Ypsilanti Township has been hosed away.
The pipe that spewed the sewage has been repaired, and the litany of code violations ranging from serious safety hazards to cosmetic issues at the property, 2532 E. Michigan Ave., also have all been addressed.
Complex owner Stewart Beal fired the management team, a source of many tenant complaints, and now oversees the 30-unit property himself. The complex was previously known as Riley Court.
Building officials have applauded the turnaround at the complex that has troubled the township for decades and called it one of the largest rehabilitation of a property they have seen.
"This is the most encompassing enforcement that has occurred at this property. Through tenant complaints, the tenacity of (code inspector) Bill Elling, unparalleled photo documentation and attorney pressure, this property looks the best it has in some time," Township Building Director Ron Fulton said. "Obviously this is a victory for the owner, the township and, most importantly, the tenants."
Beal said he invested around $50,000 to bring the property up to code.
The township charged in court documents filed last September that the complex was riddled with safety hazards and a range of code violations.
An official described the plumbing in some of the units as "wacky". In one unit, bathtub water that was turned on with a pair of pliers shot into a neighbor's wall.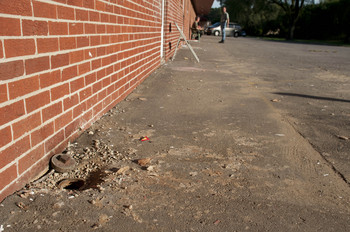 Tom Perkins | AnnArbor.com file photo
An extension cord plugged into the wall in the bedroom ran through the wall where the water was shooting. That cord led to a basement crawl space, where it was spliced into another cord that led to the hot water heater, which created a serious fire hazard.
Additionally, the large front window to the apartment was a plexiglass sheet that had been partially melted when a car was set on fire in the parking lot about 10 feet away.
Other problems included mold, flooded crawl spaces, serious electrical hazards, serious fire hazards, windows that didn't fit, broken plumbing, broken windows, trash littering the property, rotting door and window frames, windows nailed shut, non-functioning fire alarms, general exterior decay, broken plumbing fixtures, broken heaters and more, officials said.
"We went through unit by unit and verified that everything was repaired," Fulton said.
Beal said he is pleased that the property is now up to code, but he said didn't believe there were safety issues and said the bulk of his renovation expense was related to replacing windows.
"I would certainly deny there was anything unsafe on the property at any time. You caught us on a bad day," he said, referring to an AnnArbor.com reporter's tour of the property with building officials in September. "But we went above and beyond by investing $50,000 in the property.
"It was a pleasant process. Ron Fulton and Bill Elling are good to work with. I'm glad work got done to their satisfaction."
The property also had been a crime hot spot, but law enforcement officials say crime has also dropped.
Through the first eight months of last year, the Washtenaw County Sheriff's Office had responded to 96 calls at Riley Court. Police said had responded to calls at 24 of the 30 units.
Included in property's rap sheet is arson, sexual assault, felony warrant arrests, armed assault, animal complaints, disorderly persons, prostitution, narcotics possession, narcotics distribution, shots fired complaints and noise complaints. The sheriff's department also has recovered stolen cars from other jurisdictions and accompanied the township officials to enforce ordinance violations.
Tom Perkins is a freelance reporter. Reach the AnnArbor.com news desk at news@annarbor.com.