Posted on
Fri, Jun 28, 2013 : 5:57 a.m.
Ordinance banning street basketball approved in Ypsilanti Township
By Tom Perkins
Are you or your kids planning to shoot hoops in Ypsilanti Township this summer?
Residents choosing to do so in the street or other public-right-of-way could face confiscation of their hoops and receive a ticket.
At its June 24 meeting, the Ypsilanti Township Board of Trustees unanimously approved the second reading of an ordinance that prohibits basketball from being played in the public right-of-way.
Residents and neighborhood groups have been complaining to deputies and the township that kids — as well as some adults — are pulling hoops to the end of their driveway or lawn extension and playing basketball in the street.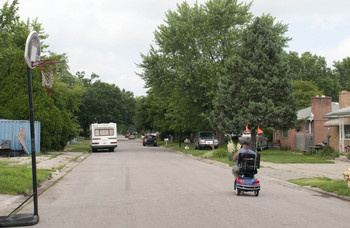 Tom Perkins | For AnnArbor.com
Residents have complained that these groups aren't moving out of the way for motorists, and officials say that creates a dangerous and frustrating situation.
"This ordinance was prompted by frequent resident complaints about the safety of young children playing in the street where passing motorists may or may not exercise due caution," said Mike Radzik, director of the office of community standards. "Portable hoops in the street create a dangerous situation in a place not designed or intended for recreational activity."
Clerk Karen Lovejoy Roe said Washtenaw County Sheriff's Department Lt. Jim Anuszkiewicz recommended the township develop an ordinance because there is no good way for officers to order games out of the street.
The Washtenaw County Road Commission has an encroachment policy regarding objects being placed near the road based on state law, but it doesn't have the staff to enforce it, Radzik said.
Residents playing basketball in streets, culs-de-sac, or with hoops on lawn extensions or otherwise in the public right-of-way, will be given a warning to pull their hoop back onto private property.
An adhesive notice will be placed on the hoop's pole stating that the hoop has to be moved.
If the hoop still is found to be in the public right-of-way after 24 hours, then it could be confiscated and the owner written a municipal civil infraction punishable by a $100 fine.
The ordinance is slated to go into effect on July 4.
Roe said she received one email, from resident Paul Nucci, who spoke against the proposed legislation after the board approved the ordinance's first reading at their April 22 meeting.
Nucci wrote that he lives in Ford Lakes Heights and there are portable basketball hoops that help make for a "fun, wonderful, close-knit neighborhood."
"I cannot find one neighbor who has an issue with these in the street," Nucci wrote.
Roe reiterated that the ordinance came at the request of the sheriff's department, which handles complaints from residents about kids playing in the street but has no legal tools to stop them.
"The sheriff's department didn't have anything they could enforce, and deputies are saying 'Give us something we can use,'" Roe said. "They do have to have a way to solve a problem or something residents have an issue with. This allows residents who have problems with (the basketball games) to have it handled and taken care of in a direct way."
Roe added the violations will mostly be complaint-driven.
"The fact of the matter is someone is going to have to generate a complaint. We don't have people riding around looking for kids playing basketball," she said.
Tom Perkins is a freelance reporter. Contact the AnnArbor.com news desk at news@annarbor.com.