Posted on
Thu, Jul 11, 2013 : 2:59 p.m.
Officials ask judge to shut down company that spilled 1,000 gallons of gasoline
By Tom Perkins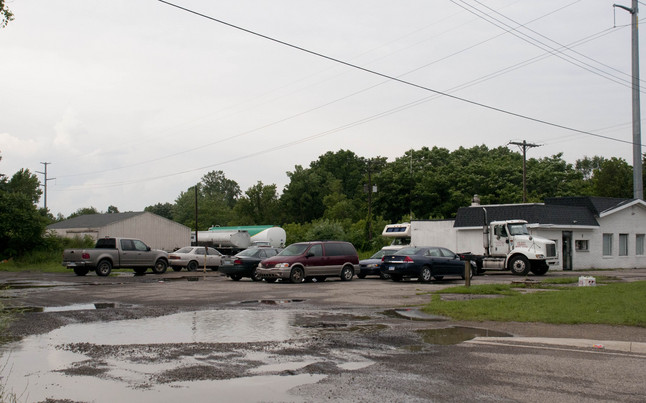 Tom Perkins | For AnnArbor.com
Ypsilanti Township will ask a Washtenaw County Circuit Court judge to order a company responsible for a major gasoline spill on July 3 to cease its operations.
A Sloan Petroleum Transport tanker collapsed and leaked 1,000 gallons of gasoline on one of its dirt lots, requiring a 14-hour Hazardous Material Team cleanup.
Courtney Sacco | AnnArbor.com
But Sloan was storing the trailers at
3105 E. Michigan Ave.
illegally, said
Mike Radzik
, director of the township's office of community standards. Storage of tanker trucks hauling hazardous materials isn't allowed on the property, which is zoned B3 commercial/retail.
No site plans were ever submitted to the township, and Radzik said even if they had been, the plans would have been rejected.
"That particular use would never be approved under our zoning," he said. "You can't operate that kind of business there."
Radzik said township officials walked the site with Ypsilanti Fire Marshal Vic Chevrette on Monday.
"It became clear the reason that spill occurred was because the tanker trucks were stored unsafely in a place that is one, not physically constructed to store such things, and two, not zoned to allow that to occur under any circumstances," he said.
On Tuesday morning, Ypsilanti Township's staff received administrative approval to take immediate legal action against the business. Radzik said a request for an emergency restraining order that would prohibit the owner, Woody Sloan, from operating his petroleum transport business at that location will likely be filed in the coming days. Sloan could not be reached for comment.
"That way there are no doubts as to what can and cannot occur on the property now or in the future," Radzik said. "That was a bad situation there."
Adding to the danger of the spill was the threat of an explosion. The spill occurred on July 3 when fireworks were being shot off in neighboring residential zones. Washtenaw County Sheriff's Office deputies had to ask residents to stop shooting the fireworks because they could have easily set off a large explosion.
The accident occurred when heavy rain caused the ground underneath the tankers to become too soft to support the jack holding the front axle of the tankers. One tanker fell and knocked over a second tanker. That destroyed the plumbing system under the first, causing it to spill 1,000 of the 9,000 gallons of gasoline it contained. The second tank, which also contained 9,000 gallons of gasoline, was not punctured.
No one suffered any injuries.
Radzik said township records show Sloan was last approved several years ago to operate a concrete sealing company. When township building officials last visited the property, there were two small buildings and one commercial vehicle.
Officials also found other code violations of concern, including several large tanks partially built into the ground. Radzik said they don't know what is in the tanks.
"We're working with the property owner. We have to bring the property in to compliance one way or another," he said. "We're still in the early stages of this thing, but I'd like to get some kind of a court order in place to prevent another accident of this nature."
Tom Perkins is a freelance reporter. Contact the AnnArbor.com news desk at news@annarbor.com.