Posted on
Fri, May 31, 2013 : 5:58 a.m.
Liberty Square demolition delayed: Ypsilanti Township considers legal action over flawed $30K asbestos survey
By Tom Perkins
The long-awaited demolition of Liberty Square could be delayed until the end of June after the Michigan Department of Environmental Quality rejected an asbestos abatement analysis of the property.
The report from the analysis - performed by Detroit-based TEG Environmental Services - was found to be missing pages and it appeared not all units of the 151-unit townhome complex had been inspected.
At a recent special meeting, the Ypsilanti Township Board of Trustees approved Township Attorney Doug Winters taking legal action to recoup the costs of the approximately $30,000 job that was performed about a year ago.
At the same special meeting, the Board of Trustees unanimously approved moving forward with a new DEQ-approved contractor to complete a new survey. Winters said township staff is working with the new company to quickly complete the work.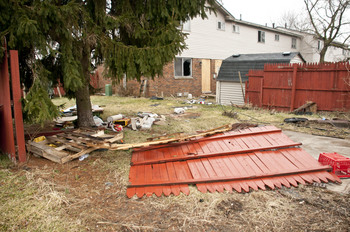 Tom Perkins | For AnnArbor.com
Officials had hoped to start the demolition this week, but were notified of the issues by the DEQ last week. Ypsilanti Township was recently awarded a $657,000 grant to tear down the 17-building complex. The DEQ must sign off on the project before the township is awarded the money, and the township already has contractors ready to begin the work.
"We have to see what legal recourse there is and make sure we aren't left holding the bag, so to speak," Winters said. "But we can't let this stand in the way of us going forward."
The environmental study and asbestos survey are required by state and federal law, and samples must be taken from each of the 151 units in Liberty Square. The complex is on a 26-acre site on Grove Road just west of Rawsonville Road.
Winters said 14,000-square-feet of tile with asbestos in it was removed and taken to an appropriate landfill, though DEQ still had some concerns that the entire complex wasn't inspected.
One of TEG's owners lives in Ypsilanti Township and Winters said there were "no red flags" that indicated any issues with the company. They were included in a list of Michigan State Housing Development Authority approved companies.
TEG representatives did not return requests for comment.
"It blindsided us. Obviously we were proceeding on good faith that people are doing what they say they're doing," Winters said. "Rather than delay the project, we decided to go ahead and have a second survey done."
The Liberty Square property has been vacant for several years and continues to attract vandals and scrap thieves who cost the township thousands of dollars monthly in expenses related to re-sealing the buildings.
Tom Perkins is a freelance reporter. Contact the AnnArbor.com news desk at news@annarbor.com.