Posted on
Thu, Apr 11, 2013 : 5:58 a.m.
Dispute over burned-out apartments draws concern as repairs delayed
By Tom Perkins
Ypsilanti Township is prepared to move forward with legal action against the owner of an apartment complex where a building has sat vacant and burned out since last July.
The insurance company and Sharrock Management, which owns the building at 716 Woodcreek off East Forest Boulevard, are embroiled in a dispute over the insurance settlement.
Township officials say their patience is wearing thin and charged that the owner, Ken Sharrock, has received and cashed a check for more than $600,000 from the insurer, Hastings Mutual, but has not pulled permits to make repairs or demolish the property.
At its April 8 meeting, the Ypsilanti Township Board of Trustees approved township staff taking legal action against Sharrock if the property isn't brought up to code or demolished.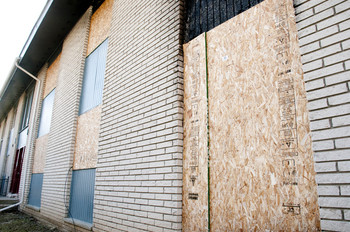 Tom Perkins | For AnnArbor.com
"We normally see (a rebuild or demolition) occur much faster than this in a similar situation," said Mike Radzik, director of the office of community standards.
The building was damaged in an arson on July 10.
A public adjuster Sharrock hired, Craig Trombley, said he is seeking an additional $120,000. At the heart of the dispute is which set of building codes must be met when a building is renovated after a fire and how much of the building is damaged.
Trombley based his assessment on a report from an architect hired to perform a code review. According to that architect's report, Sharrock must make significant upgrades to the fire suppression system that includes fire doors, fire suppressant walls, fire stops, smoke control, draft control, sprinklers and more.
But Township Building Director Ron Fulton said Trombley and the architect are going by code for new buildings, and Michigan Building Rehabilitation Code regarding fire safety only requires the installation of hard-wired smoke detectors and carbon monoxide detectors in this case. He said he cannot legally order the rehabilitation to meet new building standards.
To a degree, both parties agreed on what is damaged in the interior. Four of eight units must be stripped down to the studs. Six of eight trusses also were damaged.
But Fulton said that damage is not considered structural or major, and 50 percent of the building -including its structure- must be damaged to require major upgrades to fire suppression systems. Fulton said Trombley is basing his argument on building code that isn't relevant to the case.
Sharrock and Trombley contend 50 percent of the building is damaged.
The insurance company agreed with Fulton's assessment, not Trombley's.
That dispute led to arbitration between Hastings Mutual and Woodcreek. Based partly on Fulton's assessment, the arbitrator ruled in Hasting Mutual's favor. Trombley said he will appeal the decision to the township and State of Michigan Bureau of Building Codes, if needed.
In the meantime, township officials say they want to see work proceed whether it's demolition or rehabilitation.
"I don't know if the will and intent is to get it rebuilt or demolish it, but at this point it needs to be resolved sooner rather than later," said Township Attorney Doug Winters. "It cannot stand."
"In light of the circumstances, the delay in repairing or demolishing the damaged building is unreasonable and action should be taken to cause the case to be resolved," Radzik told the Board of Trustees.
Tom Perkins is a freelance reporter. Reach the AnnArbor.com news desk at news@annarbor.com.