Posted on
Thu, Mar 7, 2013 : 12:09 p.m.
Ypsilanti Township couple perform as Munchkins in Michigan-filmed 'Oz the Great and Powerful'
By Tom Perkins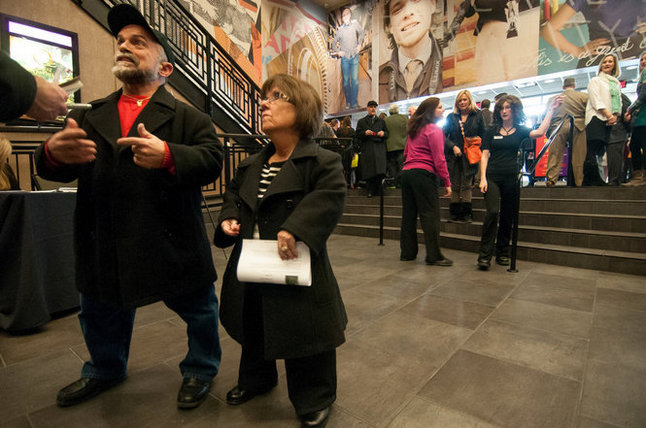 Tanya Moutzalias | MLive.com
Every day for six weeks,
Mary Hall
would transform herself into a Munchkin.
Her husband, Robert Hall, also made the transformation every day for two weeks.
The Ypsilanti Township couple says that metamorphosis from man and woman into Munchkins was the most memorable part of their experience filming Disney's "Oz the Great and Powerful" in Michigan. They only needed new cheeks that had to be glued on and perfectly placed, but it still took two hours to complete.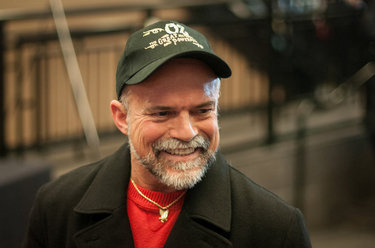 Tanya Moutzalias | MLive.com
Robert already has a mustache and goatee, but needed new eyebrows glued on, and Mary was given a wig to wear.
The other little people transforming into Munchkins for the filming of took even longer as they needed new ears and other adjustments to make them the perfect munchkins.
The Sam Raimi-directed film premiered Tuesday at the Emagine Theater in Royal Oak. The film opens Friday in theaters.
"I thought it was really neat, but then when they took the makeup off, I looked horrible," joked Mary.
The movie stars James Franco, Michelle Williams, Rachel Weisz and Mila Kunis, and the Halls said they were first approached by scouts for the film during a Little People of America regional conference more than two years ago.
Their audition was fairly simple and consisted of reciting a few lines, running, ducking, hiding behind trees and doing other things that they would need to do in the movie.
Mary worked for six weeks on the set in the Pontiac studio where much of the movie was shot, and Robert only worked for around two weeks because he couldn't get more time off work.
They were paid a day rate for their roles, but some days, even after two hours in the makeup chair, they weren't called to the set. On other days, they shot scene after scene and would work anywhere from a half hour to hours on a scene.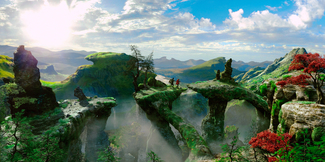 AP Photo/Disney Enterprises
The days started as early as 5 a.m. on occasion, while other days started in the evening and ran until 2 a.m.
Mary is a former Ford Motor Co. assembly line worker for 26 years at its Saline plant. Robert works as a custodian Eastern Michigan University in Ypsilanti.
In the end, the Halls made it briefly into several scenes. Robert Hall said many of the scenes he shot weren't in the movie, but the couple was on the steps at the Emerald Tower, and they said the experience of watching a full-blown Hollywood movie they were in was memorable.
"It was great, but trying to find yourself; that was harder part," laughed Robert, adding that he needs to rent the movie again to find himself among the munchkins.
Mary said she is hopeful Raimi, a Michigan native, will be back in the state in the future.
"I thought it was a great experience and I like working with Sam Raimi," she said. "They are talking about doing another one, so I hope it's in Michigan."
Read more about the Halls and see more photos from the premiere on MLive.
Tom Perkins is a freelance reporter. Reach the AnnArbor.com news desk at news@annarbor.com.