Posted on
Tue, Apr 9, 2013 : 2:01 p.m.
Officials move to stop basketball games in public streets
By Tom Perkins
Ypsilanti Township is considering an ordinance that would prohibit residents from playing basketball in public streets, sidewalks and other public right of ways.
"This is a result of years and years of complaints from residents, and that's not an exaggeration," said Mike Radzik, director of the office of community standards.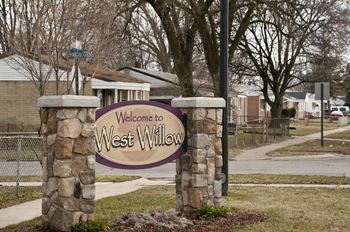 Tom Perkins | For AnnArbor.com
Township Attorney
Angela King
gave the Board of Trustees a report on draft ordinance language at its April 8 meeting. No vote was taken, and the language will likely be back for a vote at the board's April 22 meeting.
A violation would be a civil infraction punishable by a fine and confiscation of the hoop.
Radzik said residents and neighborhood watch groups have increasingly complained because groups of kids - and sometimes adults - pull portable basketball hoops to the end of their driveways or lawn extensions. That provides more room to play.
But Radzik said residents are increasingly encountering groups who won't stop their game and move for motorists.
"Aside from the obvious safety issues of playing ball in the street, we've had kids in some areas who just won't readily move out of the way for oncoming cars," Radzik said. "That's forcing people to stop in the road and honk the horn, and they're getting resistance from kids who won't stop the game and let the cars through."
Radzik said the problems have been reported in neighborhoods across the township, including Tremont, West Willow, Green Farms and in neighborhoods off Holmes Road.
The Washtenaw County Road Commission has an encroachment policy regarding placing objects near the road that is based on state law, but it doesn't have the staff to enforce it, Radzik said.
"We're stuck in a situation where people call us and we can tell them it's against a Road Commission policy, but there's no way to do any enforcement. We've considered this in recent years, and the problem has not gone away. It has only gotten worse, so we need to pass our own ordinance and enforce it."
Radzik stressed that the ordinance is not designed take away people's hoops, but to get them on private property.
"They just need to get the hoops out of the road," Radzik said.
Radzik said residents would likely receive a warning to remove the hoop and stop playing in the street. Ordinance officials would then check back within a day or so. If basketball is still being played in the public right-of-way, then the hoop will be confiscated.
Details still have to be worked out, Radzik said, but the township would likely hold the hoops for 30 days and dispose of them if they aren't claimed.
"We will be developing policy on administration of the ordinance," Radzik said. "But, just like with everything else we do, the goal is to get voluntary compliance."
Tom Perkins is a freelance reporter. Reach the AnnArbor.com news desk at news@annarbor.com.