Posted on
Thu, Feb 21, 2013 : 5:57 a.m.
Official: Concrete company illegally dumping on private property
By Tom Perkins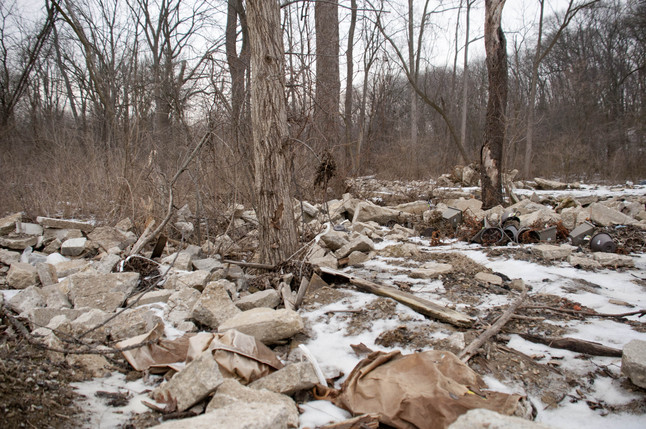 Tom Perkins | For AnnArbor.com
A concrete company is using a New York City-based holding company's property as an illegal dump, Ypsilanti Township officials say.
Township staff recently discovered the site cleared in a heavily wooded lot off South Congress Street.
At its Feb. 11 meeting, the Ypsilanti Township Board of Trustees authorized township staff and attorneys to take legal action against Hearns Concrete for using the private property as a dumping ground for broken concrete, vehicles, construction equipment, construction materials, an old pool and other general debris.
The site is of particular concern because it lies near the Miller Drain and officials estimate it has been there for at least 10 years. At some points, where the debris gets near the drain, it is piled as high as four feet deep.
"This is going to be a major cleanup operation," said Mike Radzik, director of the office of community standards. "It's essentially a landfill."
An employee at Hearns, 212 N. Lincoln St. in Ypsilanti, declined to comment.
The township also plans to contact the 17.5-acre parcel's owner, Lincorp Holdings, which has left it heavily wooded and undeveloped for the 30 years it has owned it.
Tom Perkins | For AnnArbor.com
An approximately 350-foot driveway leads to the 1.5 acre clearing, which is just east of Hewitt Road on the south side of Congress. The driveway is attached to the driveway of a home on the neighboring lot, Radzik said.
Township officials also found the remains of an underground pool that was broken up and pulled from the ground at the former Eastern Highlands apartment complex several weeks ago. The complex used to be owned by jailed landlord David Kircher and is undergoing a major renovation.
Radzik said officials noticed the blue pool liner at the site and a company employee confirmed it was the Eastern Highlands' pool.
"We put them on notice that there would be legal documents coming their way soon," Radzik said.
Tom Perkins is a freelance reporter for AnnArbor.com.