Posted on
Mon, Feb 11, 2013 : 5:58 a.m.
Ypsilanti Township hires firm to help attract new businesses
By Tom Perkins
Over the past several years, Ypsilanti Township has seen its industrial tax base decline by 47 percent while concurrently losing state shared revenue.
Now, its leadership has hired an economic development professional charged with bringing new businesses to the township and expanding its tax base.
At its Jan. 28 meeting, the Ypsilanti Township Board of Trustees unanimously approved the hiring of Mark Perry, president of the Ann Arbor-based Perry & Co. consulting company for $35,000 annually.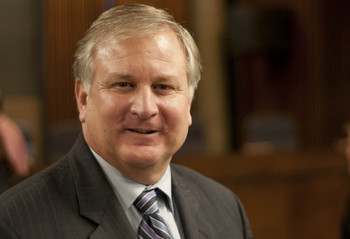 Tom Perkins | For AnnArbor.com
The township's elected officials praised the work of township staff in attracting new business to the community, but said they needed someone focused solely on bringing new businesses to the township.
"I'm very pleased this will give us an economic development professional truly dedicated to seeking new businesses," Township Supervisor Brenda Stumbo said.
Perry said he will fill in that hole.
"The shortcoming that I plan to address is the sales part; actually going out and selling the township," Perry told the board at the meeting.
What areas will be targeted and marketed, along with the township's priorities, will be determined as the township and Perry meet in the coming weeks.
Perry said he plans to use the network he established while working in manufacturing for 30 years to his advantage.
He last worked for Masco Corporation as its director of real estate services before establishing his consulting firm. He says he understands both the public and private side of economic development.
"I'm going to draw for those experiences, not only that I gained in the private sector, but what I learned and experienced from those that represented the public sector," Perry said after the meeting. "We don't want to replicate shortcomings of the private or public sectors. We need to be marketing the product and educate the business community on why this is a good place to come and do business."
The township will review Perry's performance every three months and a performance matrix will be developed.
Perry also will have his expenses paid for. The Eastern Leaders Group agreed to pay for up to $7,500 of those and the township will approve all expenses before money is spent.
"Marketing the township is something we've all worked on, but I'm really, really excited to have someone who is going to focus only on economic development," Clerk Karen Lovejoy Roe said.
Tom Perkins is a freelance reporter for AnnArbor.com.