Posted on
Mon, Apr 29, 2013 : 5:58 a.m.
Ypsilanti Township Kmart owner held in contempt of court for demolition delay
By Tom Perkins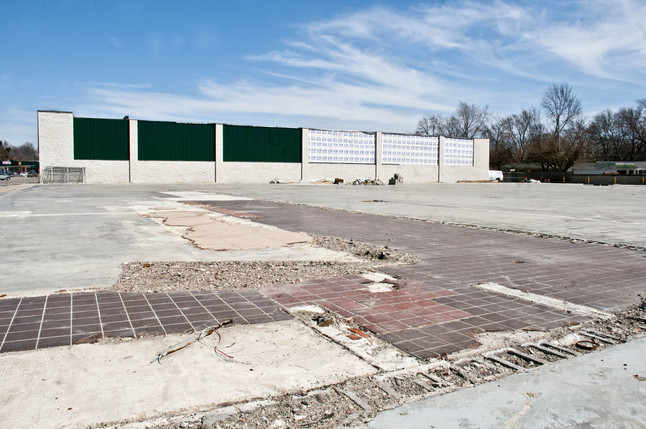 Tom Perkins | For AnnArbor.com
It has been over 600 days since a Washtenaw County Circuit Court judge ordered the demolition of a former Ypsilanti Township Kmart to be completed within 60 days.
On Wednesday, Union Lake Associates — the company that owns the building — was granted another 35 days to complete the project.
But the Sylvan Township-based company's managing partner, Michael McGlothin, was held in contempt of court for failing to complete the project. He will be fined $100 a day retroactive from April 24 if the project is not done by May 29.
The Gault Village Shopping Plaza store on Grove Road had been abandoned for more than 22 years.
Although the building itself has been torn down, Union Lake still has not completed the project to the court or Ypsilanti Township's satisfaction.
The demolition site was to be left level with the area and parking lot surrounding it. In a March inspection, township officials found a cinder block perimeter running throughout the site.
Township attorney Dennis McLain said inspectors requested that it be addressed, but Union Lake dumped concrete on top of the cinder block, leaving the area bumpier and more uneven than it was before.
McLain said Shelton gave Union Lake the option to either level-off the site or place a 10-foot chain link fence around it.
"The township would prefer to have the site completely level and not fenced, but we're always grateful that Judge Shelton listens, and we certainly respect his opinion," McLain said.
Union Lake also needs to properly address open sewage lines and clear debris from the area, McLain said.
The township first went to court with Union Lake more than two years ago in March 2011. The building had a collapsing roof, cracked outer wall and mold infestation, among other issues.
At that time, Shelton ordered the two parties to establish a timeline for demolition. When that failed, Shelton ordered Union Lake to demolish the property within 60 days in September 2011.
Union Lake told Shelton they didn't have funds to complete the project, though township attorneys pointed out they continued to collect rent from other tenants in the plaza.
The project was slightly complicated because a new exterior wall next to Measurement Inc. — a business that grades standardized tests for Michigan schools — had to be erected. Measurement Inc. previously was attached to the Kmart, so a new exterior wall had to be built as part of the demolition project.
On April 9, Shelton ordered McGlothin to complete the project in full by Wednesday or be held in contempt of court.
"I don't feel it was exactly the relief the township was looking for, but Judge Shelton thought it would be appropriate relief and he's the judge," McLain said. "We're getting the order entered and we'll see what happens from there."