blight beat:

Ypsilanti Township officials prepare for legal action against owners of 'House of Nightmares'

Posted on Tue, May 22, 2012 : 5:57 a.m.
An East Clark Road house may be owned by the Osprey, Fla.-based Home Dreams LLC, but Ypsilanti Township attorney Doug Winters labeled it 'House of Nightmares' as he discussed its issues at a May 14 Board of Trustees meeting.
The home, 1248 E. Clark Road, was brought to officials' attention by neighbors' complaints in 2009. It has a hole in one part of the roof where the owner fell through and another part of the roof is completely missing and only covered with a tarp.
Parts of the basement wall are bowing or collapsing and the floor is wet because of moisture collecting in it. Large sections of interior walls are missing, mold-infested and rotting.
After Winters covered a litany of issues that he said demonstrate a public health threat to neighbors, including that the house is dangerously close to collapsing, the board of trustees authorized legal action.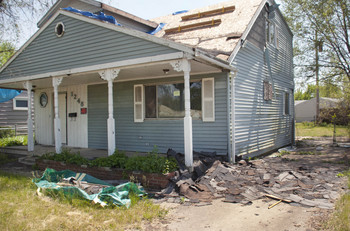 Tom Perkins | For AnnArbor.com
Officials are hoping Home Dream's owners will comply with orders to bring the home up to code but believe it has decayed to such a state that it will likely have to demolished.
Home Dreams owners didn't return calls for comment from AnnArbor.com.
"I wonder how long it would have taken the Home Dreams to take the appropriate action to remediate this property if either of you were the unfortunate persons having to live next door and deal with this blighted property? " Winters wrote in a letter informing Home Dreams of the township's impending legal action.
Among the most concerning issues are:
The roof, fascia and soffit are in disrepair and not weather tight.
A disintegrating ceiling in the second floor caused by leakage through the roof.
Sagging and rotting subflooring.
The home's front entrance is decaying and covered in mold.
Debris and other litter is scattered and piled throughout the yard.
Weeds are at a length that violate township ordinance.
The kitchen has been gutted and is missing pieces of its wall.
A missing sewage line was found in the bathtub.
Building Director Ron Fulton said the home has had three different owners, but Home Dreams has owned it since February 2011. All three owners have expressed their intention to repair the home but have failed to do so.
A notice of violation for a hole in the roof covered by a tarp was first issued in 2009, Fulton said. That owner pulled permits and began working on the roof, but the job was never completed.
Building officials found that owner had sold the home and a new owner began work but also failed to complete the job. The home was then sold to Home Dreams in 2011, and a roofing company was hired to fix the roof. But the roof company left the job unfinished and water leaking into the home has ruined the interior.
Fulton said Home Dreams has not responded to calls from the township, and the house will likely be demolished.
"Everything is repairable but at what price?" Fulton said. "Sometimes it takes more dollars than sense to repair and this would be one of those cases."
At the same meeting, the board of trustees also authorized legal action against the owner of a home at 2625 Northlawn St. The home was built within the last 10 years, but township officials were contacted by a real estate agent who said they couldn't sell the home because of mold issues.
Township building inspectors found mold throughout the home and water marks on the basement wall that indicated water was as high as four feet at one point.