Posted on
Fri, May 18, 2012 : 5:58 a.m.
Ypsilanti Township officials targeting abandoned homes where kids played in raw sewage
By Tom Perkins
(This story has been revised to correct the location of the neighborhood.)
Ypsilanti Township officials are preparing to ask a Washtenaw County Circuit Court judge to help clean up Wiard Court.
The township is addressing two abandoned homes, one of which had a yard where raw sewage leaked and kids were discovered to be playing in 2010. The homes were immediately condemned and residents ordered to leave, but the properties have sat decaying since then.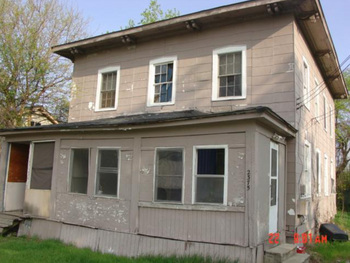 Courtesy of Ypsilanti Township
There also are two neighboring lots where a Westland man,
Vasi Bobic
, has been illegally storing commercial truck trailers and other equipment.
Issues at Wiard Court, which is in an isolated residential pocket near the northwest corner of the Willow Run Airport property, date back to 2006.
According to township building director Ron Fulton, Bobic laid asphalt on the two abandoned lots, one of which doesn't have an address, and has been cited and ordered to pay fines through the 14-B district court for failing to clear them of the trailers.
Officials have been citing Bobic since 2006 and said he previously expressed an interest in developing the property into a legal truck storage yard and warehouse.
Bobic submitted site plans to the township in 2011, Fulton said, but they were rejected. He still expressed interest in developing the lots, which he owns, but never took action. Fulton said officials are now hearing that Bobic is "bragging to his friends" that he is saving money because it's cheaper to pay the tickets than find a place to legally store trailers.
"We took it to the board for action," Fulton said when asked about Bobic's plan to save money.
The two neighboring abandoned houses are at 2371 and 2365 Wiard Court. Both properties are owned by the same owner, William Boyer, who now lives in Florida.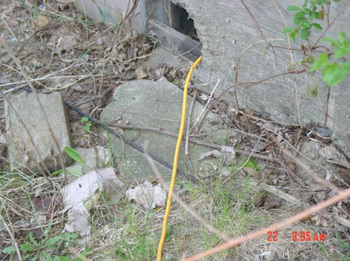 Courtesy of Ypsilanti Township
Boyer also owns a third house that is in "reasonable shape," Fulton said, and there is a fourth house on the block that is for sale. The owner of that house complained to township building officials that he can't sell his home because of the abandoned homes and trailer storage lot.
The home at 2371 Wiard Court was first brought to officials' attention in 2007 when renters there were operating a dog fighting ring. The operation was busted by LAWNET and 17 pit bulls were rescued from the house.
Both homes were subsequently cited for multiple code violations and condemned in 2010. Building officials found that the sewage line leading from the toilet into the ground had broken in the house. That left raw sewage leaking from the crawl space into the backyard where kids who were living there at the time played.
One house had its electricity shut off and power cords were running between the two homes. Building officials also found serious structural issues.
After the home was condemned, Boyer said he would bring them up to code. But Boyer now lives in Florida and has failed to return township officials' calls or emails. Fulton said the homes will likely have to be demolished.