Posted on
Mon, Nov 14, 2011 : 5:59 a.m.
Ypsilanti Township prepares legal action against bank-owned home draining police resources
By Tom Perkins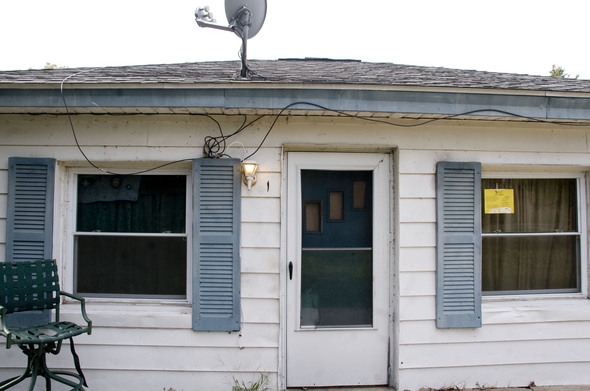 Tom Perkins | For AnnArbor.com
Ypsilanti Township officials are targeting another bank-owned foreclosed property, and they say the latest is illegally occupied by known prostitutes, drug dealers and other criminals.
The home, at 6360 Bunton St., is a single-family residence that the former owner illegally converted into a multiple-unit apartment complex. The owner also converted a pole barn behind the home into apartments, and his tenants are using significant Washtenaw County Sheriff's Office resources, officials say.
Mike Radzik, director of the township's office of community standards, said law enforcement officials are familiar with some of the people who live there. Township attorney Doug Winters said deputies have been dispatched to the apartments 29 times in recent months.
Because the property is now in a redemption period and will soon be owned by Freddie Mac, officials aren't sure whether the tenants are still paying rent or if they are illegally squatting.
The former owner bought the property several years ago and illegally converted a front building without receiving the necessary township approval for doing so. He also modified half a pull barn behind that building without proper approval and failed to perform required foundation work.
Township officials were alerted to the situation after neighbors began complaining about crime and prostitution issues. Radzik said township officials met with the owner, and he walked away from the property after he was informed of the long list of zoning, maintenance and code violations that needed to be addressed.
The property is in its redemption period, but Freddie Mac is not taking action or responding to township correspondence. At its Tuesday meeting, the Township Board of Trustees authorized staff and attorneys to take legal action.
Radzik said the township is asking a Washtenaw County Circuit Court judge to grant the township permission to remove residents from the home and secure the property. Anyone now living there who needs relocation assistance will be helped, he said. In the meantime, Radzik said, deputies are continuing to monitor the area.
Winters said the issues again lead back to the bank's and federal government's failure to address issues.
"The problem illustrates the neglect at the federal level by allowing Fannie Mae and Freddie Mac to do nothing," Winters said. "They own the property now; they could step in and accelerate the redemption period,"
"Again, you have the federal government sitting there with their arms folded and legs crossed just not caring what's going on in local communities. It's frustrating."