Posted on
Wed, Dec 14, 2011 : 5:58 a.m.
Ypsilanti Township puts pressure on owner to demolish abandoned gas station at Rawsonville and Grove roads
By Tom Perkins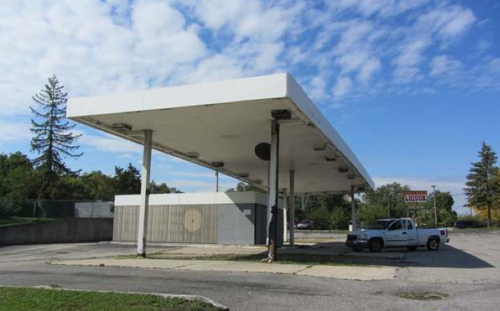 Courtesy of Ypsilanti Township
Ypsilanti Township officials are requesting the owner of a long-abandoned gas station at the corner of
Rawsonville
and
Grove roads
tear down a canopy they say is in danger of collapsing. They are also asking the owner to tear down or address blight issues on the main building.
But the owner and his attorney said they have already addressed some of the township's concerns and said their own engineer found that the structure is safe and not in danger of collapse.
At its meeting last week, the Township Board of Trustees authorized staff to take legal action if necessary, but underscored that they want to work with the owners, Troy-based Ypsilanti-Grove Development LLC, to address the issues instead of going to court.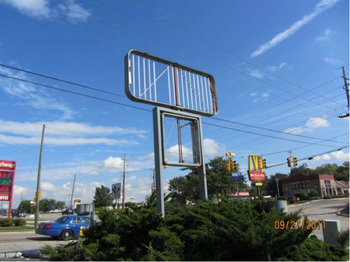 Courtesy of Ypsilanti Township
On Oct. 4, Ypsilanti-Grove was served an order to demolish the structure at
3360 South Grove Road
within 30 days or face possible legal action.
Township building inspectors contend the canopy is in imminent danger of collapsing. According to building inspectors, some of the canopy's columns have deteriorated at their base, the canopy is twisting in some areas and the beams are disconnecting from their footings.
Photos show that some of the beams have deteriorated so badly that it's possible to see through the holes in the steel supports.
Building Director Ron Fulton said some portions of the canopy are no longer supported by steel beams at all but by drainage pipes leading to underground drainage. He said the northeast portion of the canopy has begun to collapse and has deflected 9-12 inches.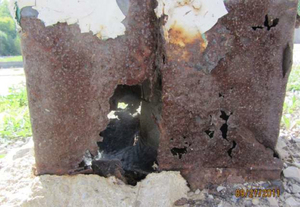 Courtesy of Ypsilanti Township
"As I stated previously; when you look up definition of 'imminent collapse', you will see a picture of 3360 Grove Road. That's how strong I will state my conviction," Fulton told the Board. "I'm not sure how or when it will collapse, but possibly this winter with snow or ice on it."
Michael Hamblin, an attorney representing Ypsilanti-Grove, said the company's engineer found that the canopy is structurally sound. He told the board that photographs of rusted out beams only showed metal wraps around beams that are there for aesthetic purposes and there actually four inch steel beams inside those wrappings. The canopy is not in danger of collapsing and is "well-secured," Hamblin said.
That assertion drew scoffs from township officials. Fulton said the four-inch steel beams were really galvanized metal drainage pipes leading from the roof to the ground. Supervisor Brenda Stumbo pointed at the picture of the rusted out beam and said it was "ridiculous" to say that the canopy was structurally sound.
Hamblin also said his client had taken down parts of a sign that appeared dangerous and pointed to a neighboring property's sign that he said appeared more dangerous than his client's. After comparing the gas station with a neighboring property's signage several times, Hamblin was instructed by Stumbo to concentrate on his own property.
Hamblin said he and his client tried to meet with building inspectors at the site but were unable to find a time. He said they were then told by Township Attorney Doug Winters that they could no longer communicate directly with the building inspectors and must go through the legal department.
He said that type of action of was premature because Ypsilanti-Grove was working to resolve the issues.
"If there is anything structurally unsafe, we are willing what we to do whatever we should do to fix it," Hamblin said. "This is an opportunity to work with a developer who hasn't found the right option to develop (the gas station). He has maintained the property, paid taxes, certainly didn't buy it for letting it sit idle."
The owner confirmed to the board that he bought the property more than five years ago and it was abandoned at the time. He said he was in negotiations with Taco Bell for four years before they opened a location across the street. He said he has also been in discussions with CVS and Chase Bank, but nothing has panned out.
Hamblin argued that the building is valuable and tearing it down would make the property less valuable for the developer. But Fulton pointed out that Ypsilanti-Grove has been in front of the Township's Board of Review arguing that the property is worth less than its assessed value and asking for their taxes to be lowered.
"These very people who are arguing that these buildings are sound and valuable are the same ones who have argued their building is worthless and their taxes should be reduced. You can't have it both ways," Fulton said.
Township officials questioned why there is a need for the canopy when there is a deed restriction legally precluding another gas station from being built. Because the property has been abandoned for over 30 days and is no longer used as a gas station or suitable for use as a gas station, it is considered blighted under township ordinance.
Fulton said some of the sign may have been taken apart, but Ypsilanti-Grove ignored the part of the ordinance that spells out that entire signs - including its base - must be removed on abandoned properties.
Winters said the photographs of the building's deterioration spoke for themselves.
"I don't think people in Troy would accept this as being a development they would like to see on one of their main corridors, and neither would the people of Ypsilanti Township," he said. "If you're going to be a stakeholder in this community then you need to step up to the plate and address the issues as if it was in your own backyard."
Hamblin maintained that the company has been trying to work with the township building inspectors but was "blocked."
"I think it's unnecessary that we need to be here today," he said. "We certainly don't want an unsafe structure. If the canopy is collapsing, of course we don't want that to happen. If there's a difference of opinion between engineers, then let's have a meeting at the site."