Posted on
Wed, Oct 20, 2010 : 7:24 a.m.
Ypsilanti Township residents must sterilize their pit bulls or face criminal charges
By Tom Perkins
Pit bull owners in Ypsilanti Township must have their dogs spayed or neutered by Jan. 1 or face misdemeanor criminal charges.
The Ypsilanti Township Board of Trustees approved the second reading of an ordinance requiring pit bull terriers to be fixed in an effort to reduce the number of that breed being euthanized at the Humane Society of Huron Valley.
The 5-1 board vote included an amendment to exempt dogs not healthy enough for sterilization and a sunset clause allowing the township to review the ordinance's impact in two years.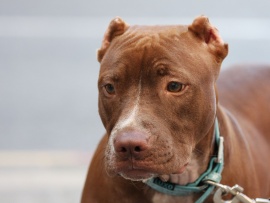 Photo by Photos8.com
The township is working in partnership with the Humane Society which, through a grant provided by PetSmart Charities, is offering free sterilization for the next 15 months.
Officials said the ordinance is an attempt to reduce the number of pit bulls euthanized and control the breed's population, but is not an effort to address dog attacks. Still, they said, they're hopeful it will also reduce the number of pit bull related incidents in the township.
Residents who violate the law face criminal misdemeanor charges punishable by up to a $500 fine and/or 90 days in jail.
According to Humane Society statistics, pit bulls accounted for 36 percent of the dogs euthanized in 2006, while that figure jumped to 50 percent in 2010.
Ypsilanti Township accounted for nearly 50 percent of the shelter's pit bull intake, while 11.2 percent came from the City of Ypsilanti and 7.4 percent from Ann Arbor.
Several Humane Society employees provided additional statistics to the board. Of 58 pit bulls recovered from dog fighting operations over the last three years, none were sterilized and only three were adopted out. Of the past 20 animal cruelty investigation cases, 14 were pit bulls. The Humane Society has had 70 pit bull intakes since Sept. 1, while only 10 had been adopted as of Tuesday.
"This is not some random shelter or some random city — these came from my shelter," said Todd Sinclair, animal intake coordinator for the Humane Society.
Because a pit bull isn't technically a breed of dog, the ordinance defines it as Staffordshire bull terriers, American Staffordshire terriers, American pit bull terriers or any mix breed exhibiting five out of eight physical characteristics defined in the ordinance.
Among the many concerns voiced by opponents is how the dogs will be identified. Law enforcement officials and animal control officers can issue citations and seize a dog, if necessary. If an owner disputes the dog's breed, Humane Society vets will make the final determination, and officials said DNA tests could be run.
Diana McKay, a Redford resident, established an organization called Wonder Bull to educate the public on the breed and promote responsible ownership. She told the board she isn't convinced officials will still be able to determine a dog's breed and provided a handout showing 16 similar looking mixed breeds, though only three were actually pit bulls.
"What happens when the next fad breed comes along?" she asked. "(The ordinance) does not address what happens in the future, and it may very well push people to go further with those breeds in the immediate future."
Trustee Mike Martin was the board's lone no vote. He said his research on the issue led him to agree with McKay and others who expressed similar concerns. He said the ordinance didn't address strong opinions voiced over aggressive pit bulls in township neighborhoods.
He said the ordinance "is not a panacea," and the issues of backyard breeders, dog fighters, irresponsible owners and aggressive dogs are not addressed in the ordinance.
"People are going to think that their lives are going to be safer after leaving here and … in fact, they're not going be," he said. "We're still going to have that problem in the community."
Martin also said he found in his research that pit bull specific legislation has not addressed overpopulation in other communities, and the laws have been repealed in some. He said those who don't want a citation or sterilized dog will simply give up the animal, leading to a spike to intakes and euthanasias.
Following the meeting, Mike Radzik, director of the Office of Community Standards, said he expects an initial jump in intakes because irresponsible owners may give up their dogs instead of having them sterilized.
Martin replied those owners will simply move on to a different breed.
A friendly amendment was added to the resolution calling for township officials and community groups to begin exploring how to address the larger issue of aggressive dogs, backyard breeding and other similar dog-related issues in the township.
Deneice Weatherburn, an Ypsilanti resident who works with the Belleville-based Buster Foundation dedicated to pit bull education and rescue, also expressed concerns.
"I'm worried (irresponsible owners) are going to stop taking their dogs to the vet," she said. "It will increase the likelihood of that dog not going to the vet and is going to raise the amount of dogs suffering or being euthanized because they're relinquished to the Humane Society because (owners) don't want to pay a ticket."
She argued that concerted education efforts would prove more effective and said easier access to sterilizations is a good first step. The Humane Society is located near Plymouth Road and Cherry Hill Road, which is far from the most problematic areas where residents may not have transportation or the desire to go to the shelter.
"My gut feeling is its not going to make the type of impact that is expected," she said. "I don't think that people who are irresponsible are going to care if there is a law or not."
People on both sides of the issue cited successes and failures of similar legislation in other communities.
Proponents of the legislation pointed to San Francisco as a success story. Local Humane Society Director Tanya Hilgendorf said she spoke with Humane Society officials there and learned the number of pit bulls intakes has dropped since that city enacted an ordinance.
Opponents of the ordinance pointed to San Francisco as a failure and said it simply forced pit bull owners out of the city or kept dog fighters and breeders underground.
Derrick Jackson, the community engagement director at the Washtenaw County Sheriff's Department, related several stories of pit bull abuse and breeding in his own neighborhood.
"Pit bull specific is what the kids in my neighborhood are breeding and trying to sell," he said. "To do nothing in unconscionable. It is a very difficult and complex issue, but I keep remembering what the reality is."
The Sheriff's Department will be deputizing the Humane Society animal cruelty investigators and is considering temporarily outsourcing for additional assistance while one of their two animal control officers is out on extended leave.
Hilgendorf said pit bulls are the No. 1 breed euthanized, involved in cruelty investigations and running stray. She said the ordinance would provide her team with a greater ability to address the problem.
"We know it's not a magic pill, I don't want anybody to think this is going to cure everything, but this is a tool, one that will help address the sheer abundance of these dogs in Ypsilanti Township," Hilgendorf said.
"This is not a random breed in a random zip code … This is not San Francisco, we have a problem here, now," Humane Society animal cruelty investigator Elise Ramsey said.
Township Supervisor Brenda Stumbo said the township first went to the Humane Society over public safety issues associated with pit bulls, but that has evolved over time.
"Now it's about stopping the killing of pit bulls," she said. "I trust the Humane Society — they would not ask us to do this if it wasn't necessary. I would rather try and fail than not try at all."
Tom Perkins is a freelance writer for AnnArbor.com. Reach the news desk at news@annarbor.com or 734-623-2530.