Ypsilanti Township seeks court help in shutting down problematic halfway home
Posted on Mon, Jul 2, 2012 : 5:56 a.m.
Ypsilanti Township may ask a Washtenaw County Circuit Court judge to help it close down what officials say is a boarding house for mentally ill residents who are operating a business in an improperly zoned home.
The home has been the source of significant problems for neighbors over the past several years, including an attempted break-in and a man masturbating in front of a 10-year-old girl.
Neighbors and township officials charge that the clients are prone to violent outbursts and are undersupervised.
The area is zoned R-5, which allows for single-family homes. Since the home, at 2063 McKinley, is allegedly rented to a non-profit corporation that sublets rooms to clients, it is essentially a boarding house, which isn't allowed, said Mike Radzik, director of the office of community standards.
The home is owned by Odeh Farha, who owns the nearby Target 2 Party Store at the intersection of Congress Street and Hewitt Road. The residents in the home are supervised by Joak Homes, an Ann Arbor-based assisted living company.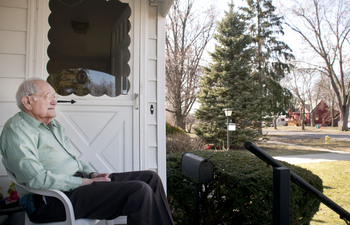 Tom Perkins | For AnnArbor.com
A notice of violation for the property was served to Farha, who said he was unaware of the zoning issues on Feb. 17. He assured township officials that Joak's lease expires at the end of May and the lease would not be renewed.
"The owner previously told us they were going to have house vacant by the end of May," Building Director Ron Fulton said. "May has come and gone, now they are saying it might be July or August, and, based on the fact that they appear to be dragging their feet, we feel there is a need to expedite this in order to improve quality of life for neighbors in this community."
Fahra recently told township building inspectors that the residents would be at the home until July or August, so the township is now asking a court to order the home vacated, if necessary.
"They are going around and looking for a house," Fahra said, adding that Joak has showed him evidence of their search. "They need to find a place that is suited for these handicapped kids. For me, as a human being, I can't throw these handicap kids out on the street. We can't do that to them, so we're waiting for them patiently to find a house."
Fahra said he is aware the township could file suit and he said he has been promised several times in the last couple weeks by Joak that the residents would be moving. But he underscored that he won't evict the residents immediately.
"I'm in the middle of this and I want to make everyone happy - the neighborhood, the parents, the county and the company. I'm stuck in the middle, but I cannot throw handicap kids on the street," he said. "I'm trying to make everyone happy."
A manager at Joak previously told AnnArbor.com that his company doesn't rent the home, but one of the clients does. Clients are referred to the company through Washtenaw County Community Support and Treatment Services.
Officials also said Joak isn't registered with the state and a manager from the company did not know if the home was registered with any state agency.