Posted on
Fri, Sep 16, 2011 : 5:59 a.m.
Court orders cleanup of Ypsilanti Township hoarder's condo
By Tom Perkins
A Washtenaw County Circuit Court judge has ordered the cleanup of an Ypsilanti Township condominium littered with raw meat — among other debris, including dead rodents — within 21 days.
In a verified petition filed with the court, township attorneys allege Wingate Park condominium owner Elmer Sheldon is hoarding the meat. Sheldon told township building inspectors he is homeless and no longer lives in the condo.
Township officials said Sheldon has owned around eight homes in the township at one time, and all required some form of nuisance abatement action because of unsanitary or blighted conditions. One home at 1810 George St. had to be demolished.
Township attorney Dennis McLain wrote in the petition that the meat has caused a severe infestation of rodents, fleas, flies and cockroaches that professional pest control companies haven't been able to address.
Upon inspecting the property at the end of August, township officials found rotting meat in plastic bags, decaying animals, animal feces, money strewn throughout the debris, around 30 bicycles, "unknown soft items" in various states of decay, mold and even raw chicken stuffed in the mailbox. Because their skin felt like it was being bit by tiny insects, building officials wore disposable, protective outerwear and respirators while inspecting the home.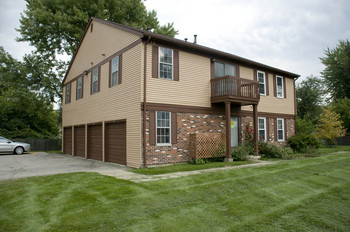 Tom Perkins | For AnnArbor.com
The Wingate Park Condominium Association and its resident agent, Pasco Property Management, have done nothing beyond writing Sheldon a letter about the situation and calling an exterminator, McLain wrote in the verified petition.
The township contends the Wingate Association has failed to protect the health and welfare of its residents, as is required in its articles of incorporation.
Judge Timothy Connors entered a preliminary injunction prohibiting the property's occupancy and ordering the Wingate Association and Pasco to remediate the problem by Sept. 27. A review hearing is scheduled for Oct. 6.
Connors court ordered remediation to be performed by a professional catastrophe clean up team and is requiring the removal of any contaminated flooring, drywall, appliances, fixtures and furniture. Wingate and Pasco will be responsible for the initial cost, which will then be passed on to Sheldon. If Sheldon doesn't pay, a lien will be placed on the property.
Township officials were first alerted to the residence by the Washtenaw County Health Department in late June. Building inspectors found the property locked and no one home, but could smell what they said they recognized as animal urine and mold.
The garage ceiling was also partially collapsed, which led to water damage, and officials tagged the condominium and garage, which are at 1593 Wingate, as unfit for occupancy. The condominium unit sits above four garages used by owners of other condos in the same building.
When building officials visited the condominium a month later, they found it still stunk and remained locked, but on Aug. 24 a neighbor living in the building sent township building inspectors evidence of the conditions inside.
Mike Radzik, the township's director of the office of community standards, confirmed with Ann Arbor Critter Control that the company had visited Sheldon's condo seven times between late May and late July and had been unable to abate the pest infestation due to the amount of food and raw meat stored there.
Building officials obtained an administrative search warrant on Aug. 25 and found "appalling" and "just plain horrific" contamination. Radzik added that power and electricity has been off at the property since 2003.
"Words alone cannot adequately describe the horrible conditions found inside this condominium, which now tops the list of 'the worst we've ever seen,' " Radzik said. "The neighbors have been subjected to an unbearable odor and rodent infestation caused by neglect and harmful behavior."