Posted on
Wed, Oct 26, 2011 : 5:59 a.m.
Ypsilanti Township couple seriously injured in June hit and run accident greets baby girl
By Kyle Feldscher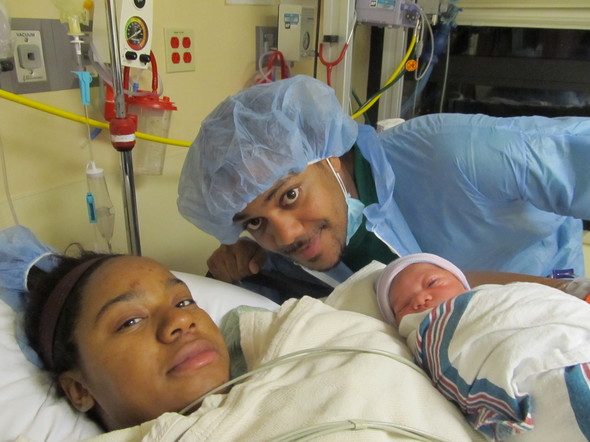 Courtesy of Christian Jimenez
The Ypsilanti Township couple whose lives were thrown into turmoil when they were hit by a car while waiting for the bus started a new chapter in their lives last week when they greeted their newborn baby girl,
Aliyana
.
Tanesha Bush gave birth to Aliyana, her first child, at 10:46 p.m. Oct. 19 at St. Joseph Mercy Hospital — the same hospital she and Christian Jimenez, her boyfriend, were taken to after a hit-and-run driver struck them on June 3 at a bus stop on the 1300 block of Huron River Drive. The yet-to-be-born Aliyana was the only member of the family to escape the accident uninjured.
Bush was five months pregnant at the time of the accident and suffered a broken leg. Jimenez was the more seriously injured of the two. He suffered a broken neck and serious brain injuries and got out of a rehabilitation facility on Sept. 30.
Jimenez, who makes music and does various other forms of entertainment such as sketch comedy and video production under his stage name AQ Israel, said his baby girl is already home and is taking it easy on her parents — while she's an animated child, she's not a big crier.
"It's pretty laid back," Jimenez said of Aliyana's first weekend. "We're getting used to the whole routine of feeding her every three hours and we're just making sure we stay on top of that and make sure she rests.
"It's pretty cool; it's pretty decent."
Jimenez said Bush has been recovering since she and the baby returned from the hospital. He said she's been walking around on her injured leg much better since she gave birth to Aliyana and only needs one crutch to keep her balance.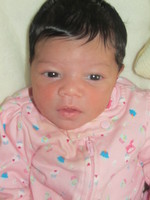 Courtesy of Christian Jimenez
He said the biggest thing he's been worried about since Thursday is fulfilling the many requests from friends and family for pictures of Aliyana.
Kimberly Burke, the woman who was driving the vehicle that hit Bush and Jimenez, is serving a sentence of two to five years in prison for failing to stop at the scene of an accident resulting in serious impairment or death and one to two years in prison for possession of a controlled substance. She was sentenced earlier this month and pleaded guilty to the charges in September.
Burke will spend a maximum of five years in prison for the incident.
Bush and Jimenez are rebuilding their lives after the accident. Three days before the accident, the couple began moving into a new apartment, which they lost during the ensuing months. Jimenez was also supposed to begin a new job at Briarwood Mall, but he lost that after he didn't show up for work when he was supposed to because he was in the hospital fighting for his life.
In June, he had reconstructive surgery in which doctors placed titanium plates in his leg. Jimenez has no recollection of the accident: his last memory is standing on the balcony of his new apartment with Bush. The next thing he remembers is being in the hospital a month later, he said.
Jimenez said his neck has been feeling much better in recent days than it has any time since the accident. His physical therapy is mainly focused on his neck right now because the scar tissue on his leg is still healing.
He's very encouraged about how his recovery is progressing.
"I recover fast. I recover really fast. I'm thinking about joining the X-Men," he said.
Kyle Feldscher covers cops and courts for AnnArbor.com. He can be reached at kylefeldscher@annarbor.com or you can follow him on Twitter.