Posted on
Fri, May 3, 2013 : 5:58 a.m.
Ypsilanti Township settles for $25,000 with David Kircher over legal bills
By Tom Perkins
Ypsilanti Township has settled with jailed landlord David Kircher for $25,000.
The township claims Kircher owes it $69,000 in legal fees related to an incident in which he pumped raw sewage from the Eastern Highlands apartment complex into the Huron River.
Kircher is serving a five-year prison sentence and filed for Chapter 11 bankruptcy in February. That was converted to a Chapter 7 bankruptcy in June, and a bankruptcy trustee was charged with selling off 24 properties Kircher or one of his companies owned.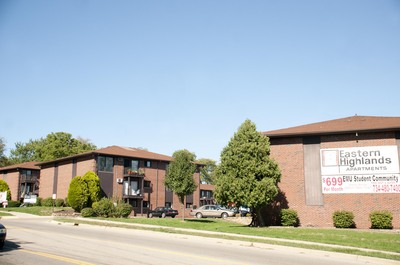 Tom Perkins | AnnArbor.com file photo
As of April, Kircher held around $2.7 million in debt. The largest debt is to the state of Michigan, to which he owes $1.5 million for dumping the raw sewage. He also owes $112,448 to DTE Energy and his former attorney, George Ward, is owed $25,000 for his services.
The bankruptcy trustee, Doug Ellman, offered a package of 24 properties, of which 12 did not sell. The largest, Eastern Highlands, recently sold for $1.5 million.
The remaining 12 properties were sold to investors in a county foreclosure auction.
Ellman said after expenses toward the management of Eastern Highlands was paid, a pot of $1.1 million was left to distribute to Kircher's creditors - approximately $1 million less than what was claimed to be owed.
The township claimed to a U.S. Bankruptcy Court judge that it is a secured creditor, which typically includes mortgage companies or the Internal Revenue Service, for example.
Winters said the township was prepared to argue in court that it was a secured creditor because public tax money that paid the legal bills was at stake.
Kircher's attorneys disputed that, but instead of going through a lengthy legal process, the two sides worked toward an agreement. Winters said the township was offered $5,000 up front and a percentage of the pot reserved for unsecured creditors. The amount of money that will be distributed to unsecured creditors has yet to be determined, but Winters said it could be in the range of 20 to 40 cents on the dollar.
Winters asked for a $25,000 settlement as a secured creditor, and the township would give up any claim it has as an unsecured creditor.
By agreeing to the $25,000 settlement and giving up its unsecured claim, the township is guaranteed to recoup at least some of its cost.
"A bird in the hand is worth two in the bush," Winters said.
A U.S. Bankruptcy Court judge still has to approve the settlement.
Winters said he is pleased Kircher filed bankruptcy so his assets and properties were sold and some money was recouped.
"Had he not filed bankruptcy we would have been chasing him forever," Winters said. "At least this gets Eastern Highlands out of his hands, it stopped sewage from being pumped into the river, and he's in prison serving his punishment.
"It's not a perfect world, but it's as good as we are going to get given everything that has happened."
Tom Perkins is a freelance reporter. Contact the AnnArbor.com news desk at news@annarbor.com.