Ypsilanti Township supervisor candidates see different paths into the community's future
Posted on Sun, Jul 29, 2012 : 3:12 p.m.
Ypsilanti Township Supervisor Brenda Stumbo says she believes she and the current board of trustees have guided the township through a severe recession with a balanced budget, few cuts to service and a strong team in place to help counter foreclosure and blight issues.
One of her challengers, John Hoops, a Belleville business owner and head of that city's downtown development authority, sees it differently. He says Ypsilanti Township must be taken in a new direction and focus on business recruitment and retention and be proactive instead of reactive in addressing blight.
Hoops is part of the Y-Town Future, a slate of 10 candidates running on that same message for Ypsilanti Township's administrative, trustee and park commission seats.
In the Aug. 7 Democratic primary, voters will decide whether or not the township needs to head in a new direction or if they feel Stumbo and the current board of trustees are taking the right approach to addressing the township's issues.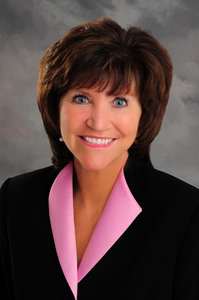 Photo courtesy of Ypsilanti Township
A third candidate, Brenda Meadows, did not respond to AnnArbor.com's requests for an interview. Meadows is currently serving a term on the Willow Run Community Schools Board of the Education. Her term expires in December 2014, according to the district's website.
Stumbo, 50, has served as an elected official for 24 years and is at the end of her first four-year term as Ypsilanti Township's supervisor. She said her experience, along with the experience of those currently serving on the board and staff, is an asset to the township as it continues to try to maintain services in tough economic times.
"During the difficult times, everyone has worked together on behalf of our community," she said. "Our team's knowledge and experience far exceeds our opponents. There have been no issues raised in the board meetings in the past 3.5 years or in this campaign. We have done an excellent job in addressing the reduction in revenue by reducing expenditures without reducing services."
Hoops, 35, owns Belleville Milling Company, Feed Store & Pet Supply in downtown Bellville. He is running for office for the first time but was appointed to the Ypsilanti Township Park Commission in 2011 and the Belleville DDA, of which he is now chair, in 2006.
He sought to highlight Y-Town Future's diversity and asserted that he would be a strong leader of that group and the township.
"I prefer to lead and not follow," he said. "This township needs someone who will step out in front and work hard to make Ypsilanti Township a premier destination in Washtenaw County.
"As for the township as a whole, I feel that if it happens in the township, I should know about it."
Stumbo called neighborhood stabilization the biggest challenge the township faces as it copes with the loss of its industrial tax base. The closing of the General Motors Hydra-Matic Plant in 2009 resulted in 35 percent loss of revenue and contributed to more than 2,000 foreclosed homes, Stumbo said.
She said the township was able to reduce its expenditures and balance its budget while maintaining essential services such as fire, police protection, garbage collection, brush collection and road improvements despite the challenges.
Photo courtesy of John Hoops
The creation of the Community Action Team in partnership with the Wathenaw County Sheriff's Office is one of the successes the township has had in dealing with crime and blight-related issues, Stumbo said. That team works closely with residents and neighborhood associations.
The township also created a blight enforcement agency composed of multiple township departments that holds banks, mortgage companies and absentee property owners accountable for abandoned and foreclosed properties, Stumbo said.
"Neighborhood stabilization continues to be our biggest challenge," she said. "Holding banks, mortgage companies and absentee owners accountable continues to be the solution."
She laid out the township's approach to fighting blight, which she said starts with the township's and Sheriff's Department's philosophy of "If you see something, say something, and it is up to us to try and do something".
Complaints are investigated by the ordinance, building, zoning or fire department, Stumbo said, and a property owner is given a notice of violation, not a ticket, if there is an issue.
"The (notice of violation) gives them the opportunity to become compliant with our codes," Stumbo said. "If the property is determined to be dangerous in regards to residents' health and safety, then we act swiftly and proceed to court on an emergency basis when requested by the director of community standards in consultation with legal counsel."
But Hoops says he disagrees with that approach.
"We need to be less reactive and more proactive to address the blight issue," he said. "Blight has been building under the watch of the current board, and it didn't happen overnight."

Courtesy of Willow Run schools
He charged the township leadership is ignoring certain areas of the while cracking down on others - such as the East Michigan Avenue corridor - and he said the township is preoccupied with only tearing down buildings.
"If we need to have a building torn down, we will have a plan in place to rebuild something in its place," Hoops said. "For too long we've been tearing a lot down, but not rebuilding anything in its place."
Hoops said listing and marketing township-owned properties to get them back on the tax rolls or working with local real estate agents to generate exposure could be one way to avoid having to tear down so many buildings. He also said officials need to work closely with the homeowners associations to localize blight enforcement, which will save the township money in the long run.
Also central to Hoops' campaign is creating a strong business community. He said the township needs to highlight areas that are ripe for commercial development - such as the Washtenaw Avenue, Ecorse Road and Whittaker Road corridors - and focus on improving business activity there.
Hoops suggested the creation of a downtown development authority and seeking grant funds to improve those areas and make them more favorable to pedestrian and vehicle traffic.
"We truly care about the business community and take them seriously," Hoops said. "As businesses thrive, others will see Ypsilanti Township as the place to be and hopefully make the choice to locate here as well."
Stumbo connected the township's neighborhood stabilization effort to the 41 businesses she said decided to expand or move to Ypsilanti Township over the past three years.
"The best way to attract new business is to continue keep your community safe, clean and provide good service," she said.
She said the township has benefited from partnerships formed with economic development groups such as SPARK East and the Aerotroplis project, which is a collaboration between multiple governments and organizations to promote significant economic development along the Interstate 94 corridor.
She said the township is also working closely with the Racer Group to help attract new business to the former General Motors Plant.
"We all know the solution to the economy is jobs, the solution to our housing crisis is jobs and the solution for our families is good jobs," Stumbo said.