Posted on
Thu, Jul 26, 2012 : 5:57 a.m.
Pest or pet? Ypsilanti Township appealing court ruling on controversial rooster
By Tom Perkins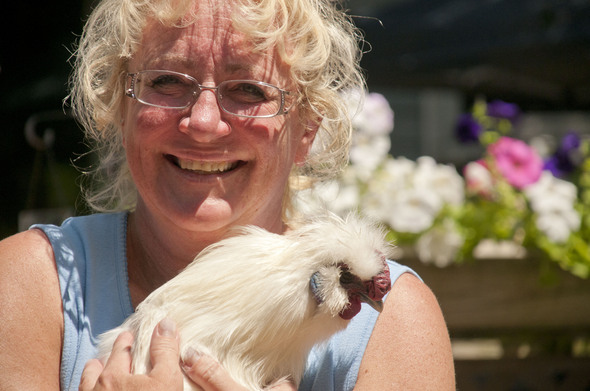 Tom Perkins | For AnnArbor.com
Editor's note: The name of Judge Charles Pope has been corrected in this article.
On a recent Tuesday afternoon, Kendra Wiedbusch hugged her rooster, Waffle, with the love that anyone would show an ordinary pet.
But neighbors say Waffle isn't a pet, but a loud nuisance that belongs on a farm. And in three weeks, a Washtenaw County District Court Judge will determine if Waffle is a pet or, under Ypsilanti Township ordinance, an animal only allowed on a farm.
The township first was alerted to Waffle from a complaint by a neighbor who lives across the street. That neighbor, Chris Cascone, filed a complaint with township officials on May 11 that alleged Waffle is noisy, crows around the clock and is disturbing his family.
He later said he has an 18-month old and he can't leave the windows open during nice days because of Waffle's crowing.
"The No. 1 big thing is that it's all about respect for your fellow neighbors," Cascone said. "We have to be hearing it crow all hours of the day — including 1, 2 in the morning."
But Wiedbusch says she keeps Waffle inside during "quiet hours." She added that she puts Waffle in the car and takes him to her job as a crossing guard with Ypsilanti Public Schools, so he isn't outside most of the day.
"He's a beloved family pet," Wiedbush said. "We took him in because we fell in love with him. He even knows his name."
She said Waffle isn't as loud as neighbors allege.
"I keep him inside most of the time, I keep him in over night, he's never outside during quiet hours. If he cock-a-doodle-do's, then it bothers us, not anyone else," she said.
But the township asserts that is irrelevant and roosters simply aren't allowed in dense residential zones. The case has nothing to do with a backyard chicken ordinance that is making its way to the Ypsilanti Township Planning Commission for consideration.
Mike Radzik, Ypsilanti Township's director of community standards, said an ordinance officer contacted Wiedbusch, who lives on Hull Avenue near Harris Road and Grove Road, after the initial complaint. The officer informed her that a rooster wasn't allowed in a dense residential area.
Township zoning laws state that single-family residences are only permitted to engage in farm activity if they are on at least five acres of land. The township's definition of farming includes the raising of livestock or poultry. Poultry are defined as chickens or roosters.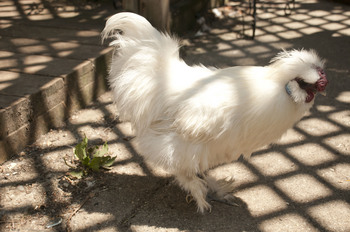 Tom Perkins | For AnnArbor.com
"There are no exceptions - there is nothing in the code that permits anyone to raise a rooster on less than five acres," Radzik said.
But Wiedbusch contends that Waffle is not laying eggs like a hen and Waffle is a family pet that "thinks he is a dog and acts like one". She says that means there is no farm activity on their property, which is a parcel much smaller than five acres.
Wiedbusch refused to give up Waffle on those grounds and asked the ordinance officer to write her a ticket so the case could go in front of a magistrate at the 14-B District Court.
Radzik said the magistrate agreed with Wiedbusch and dismissed the case based on the reasoning that Weidbusch is not farming because the rooster is not laying eggs.
Radzik said the case was then forwarded to the township's legal department, which is appealing the ruling.
"We on the ordinance staff were not happy because it could open the door to allow people to have a whole variety of animals on their property while claiming they are just pets," Radzik said. "There's a reason they are not permitted in dense, urban residential areas. Obviously, noise is one of them."
The township could cite Wiedbusch under animal control law, which would carry a criminal misdemeanor penalty, but officials have opted to go to civil court first, Radzik said.
Radzik said the township received a second complaint on July 23 about an increase of mice in the area. Neighbors and relatives living directly next door to Wiedbusch said they are fed up with the noise Waffle has made since he became part of the family in October.
Todd Laurell, who lives in the home, said his family has lost sleep because of Waffle's noise and it disturbs their kids.
"It makes a lot of noise," Laurell said. "I don't think it belongs there. You have got to have five acres in Ypsilanti Township (to own a rooster) and it belongs on a farm."
Cascone expressed similar thoughts.
"You have to have five acres to farm, so why can't they just follow the law?" he said. "Why make a big stink over a chicken, which obviously isn't a pet?"
Wiedbusch charged the complaints from Cascone were from an over-sensitive neighbor who has also complained about noise from the Wiedbuschs' convertible, motorcycle and fireworks on the Fourth of July.
"I've had him since October and it took them until May to complain," she said.
Wiedbusch said she has already contacted an animal sanctuary and was told that Waffle would likely be bullied and killed if put with other roosters because it was raised by a family of humans and not in a flock.
"His demise would not be positive," she said.
The case will be heard by Washtenaw District Court Judge Charles Pope on Aug. 8.