Posted on
Fri, Mar 1, 2013 : 5:58 a.m.
Ypsilanti Township piloting feral cat population program
By Tom Perkins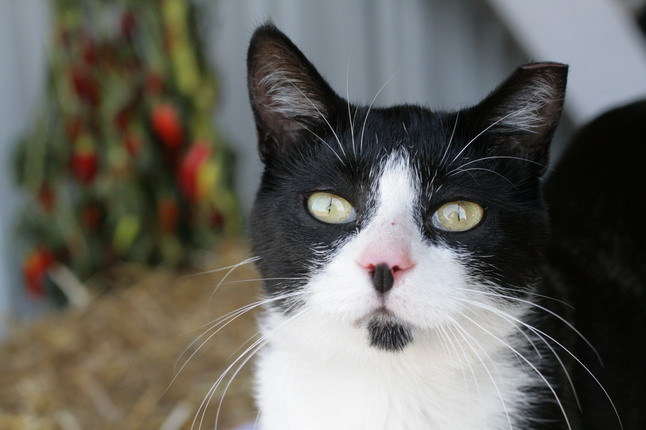 Photo Courtesy of the Humane Society of Huron Valley.
Ypsilanti Township is preparing to develop feral cat colonies in a new approach to controlling their population.
The "Trap-Neuter-Return" program will involve building shelters that will attract feral cats, which are then live-trapped and brought to the Humane Society of Huron Valley.
The Humane Society next sterilizes the cats, treats them for disease and releases each one back into the colony where they were found. Their ears are tipped so officials know the cat has been treated.
Sterilizing cats is key to controlling their population, especially because they can have up to three large litters annually, officials said.
Feral cats - or "community cats," as the HSHV refers to a broader population of outdoor, wild cats averse to human contact - have particularly been an issue in Ypsilanti Township. On more than one occasion, township ordinance officers have encountered vacant homes sheltering up to 60 cats.
Six neighborhoods that were a source of a combined 160 orphaned cats brought to the Humane Society in 2012 will serve as the pilot neighborhoods. The township will spend $10,000 on the program, and the Humane Society is estimating that it will sterilize around 130 cats over six-week period.
"A growing overpopulation of feral cats, also known as community cats, has been identified as an issue of concern by various neighborhood watch groups," said Mike Radzik, director of the office of community standards. "Resident complaints filed with the ordinance department and county animal control officers about feral cat colonies in neighborhoods have accelerated."
HSHV officials say the TNR program is the only effective and humane way to control the feral cat population.
The HSHV put a similar program in place in 2007 and has seen a 23 percent drop in the number of strays brought in since then while assisting more than 8,500 cats. But the new program goes further.
In each neighborhood, volunteer "caretakers" will work with Humane Society staff to develop community cat "TNR colonies." Brittany Keene, the HSHV's community cat coordinator, explained the colonies will be in wooded, secluded areas adjacent to identified neighborhoods.
Each colony will include a shelter similar to a dog house with entrances that are too small for predators. Caretakers will provide food in the shelter, and Keene said that and the relative isolation and will pull the neighborhoods' community cats away from other areas where they may be living inside the neighborhood.
"As long as there is food in these spots, they don't have any reason to go anywhere else," Keene said.
Each cat is then live trapped and treated at the Humane Society before being released back into the colony.
The problems associated with community cats in a neighborhood don't threaten humans' safety but the yowling, spraying and other similar behaviors can be a nuisance.
The six neighborhoods that will be a part of the pilot program include West Willow; a four subdivision area that includes Green Farms, Mill Point Whittaker Village and Amberly Village; an area comprised of the Whittaker-Tuttle Hill subdivision, Schooner Cove, Ford Lake Landings and Ford Lake Village subdivision; Smokler Textile subdivision; the Holmes Road neighborhood Watch area; Ecorse and Harris Roads neighborhood and Elmcrest Mobile Home Park.
Township officials will look at results at the end of the six weeks and determine how to proceed beyond the pilot. Radzik said officials will look at the number of cats sterilized and receiving medical treatment, but also assess the level of awareness raised and how many people sign on to be caretakers.
Radzik said more caretakers and public awareness will help generate more data on where there are issues in other parts of the township.
The Humane Society and township are mailing out information to and meeting with residents in the pilot neighborhoods prior to implementing the program. The Humane Society is asking that residents don't feed feral cats during the program, which will pull the animals away from the TNR colonies.
Keene said the Humane Society also is looking for colony caretakers, who provide food, provide water, maintain the shelter, help track the cats, sometimes provide medical care and sometimes bring cats into shelters.
"A lot of these people care for them like they were indoor cats," Keene said.
The Humane Society also is offering low-cost transportation and sterilization for domesticated cats as well as pit bulls during the pilot program, which begins in late March and runs through May.
"This is something new and positive for the community, animal welfare, and we're excited to be part of this with the Humane Society," Radzik said.
Contact the Humane Society at 734-662-5585.
Tom Perkins is a freelance reporter. Contact AnnArbor.com's news desk at news@annarbor.com.