Ypsilanti Township Victory Academy closing after charter not renewed
Posted on Thu, Jun 14, 2012 : 5:57 a.m.
Ypsilanti Township's Victory Academy charter school will not re-open for the 2012-13 school year after it failed to secure a new authorizer, Principal Kevin Whelan said.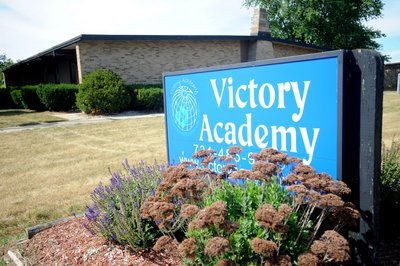 Angela J. Cesere | AnnArbor.com
Whelan said the main office will be open throughout the summer to support families and transfer student records. The last day of school was June 8.
"We worked diligently during our time in Ypsilanti to provide a home away from home and did our utmost to provide an environment fostering academic growth and improvement," Whelan said in an email to AnnArbor.com. "We would like to thank all of our families, staff, and students for everything they have done for our school. All left a lasting impression on our lives that will not be forgotten."
Current authorizer Bay Mills Community College Charter School office chose not to renew its contract with the pre-kindergarten through fifth-grade school. The academy first opened its doors in 2006, two years after it initially received its charter from Bay Mills in 2004.
Patrick Shannon, Bay Mills Charter Schools office director, said its authorization is set to expire July 1. Shannon said the charter was not renewed following a two-year renewal process in which Bay Mills examined the overall performance of the school.
Shannon cited the "financial condition and academic performance" of the school as reasons why Bay Mills chose not to renew the carter. A committee of five individuals made the recommendation, Shannon said.
For the fiscal year ending June 30, 2011, Victory had a deficit of $91,576. Projections for fiscal year 2012 expected the school to have a surplus of $3,049.
"For authorizers, it's part of our responsibility to review the school based upon academic performance and overall school operations and if it's not doing a good job then we don't renew," he said. "It's happening more often now than in the past."
The school, which is located at 1715 E. Forest Ave., was told in December that its contract would not be extended and it chose to set an internal April 1 deadline to find a new authorizer, which did not happen.
Multiple attempts to reach Mohamad Issa, director of Global Educational Excellence, which owns and operates the school, were unsuccessful.
According to 2011 MEAP scores data from the Michigan Department of Education, 25 percent of Victory Academy third-graders who took the test were proficient in math and 47.1 percent were proficient in reading.
The data show 19.2 percent of fourth-graders were proficient in math and 15.4 percent were proficient in writing. Twenty fifth-graders took the math portion of the MEAP, yet 0 percent were found proficient in math. Of the 22 students that took the science portion, none were found proficient.
Buddy Moorehouse, vice president of communications for the Michigan Association of Public School Academies, said generally, charters aren't renewed for one of two reasons: a governance problem or poor academic results.
"(Authorizers) usually work with a school over a period of years to correct whatever the problem is," Moorehouse said. "It's a pretty serious thing obviously not to renew a school's charter. They take this very seriously so this isn't the type of thing where a school is doing great and all of a sudden they don't have the charter anymore. That's not ever the way it works."
Victory Academy has more than 200 students and, according to the Center for Education Performance and Information, 15 teachers.
Moorehouse said because each charter school operates as an independent school district, parents will have to find another school for their children since they're not automatically re-assigned to a different location. All of the teachers and school employees will lose their jobs as well.
Moorehouse said the next step will be ensuring that parents find a new school for their children. He said there are a number of "excellent" charter schools in the Ypsilanti area, along with other educational options.
"It's an unfortunate situation any time a school closes its doors," Moorehouse said. "What's most important now is that the parents of those students find another quality school choice for their children."
"It is a bad thing when this happens because all of those teachers and students are displaced, but it's one of those things that pop up from time to time," he said.
In the past, there was a cap on charter schools and authorizers had a limited number of charters that they could give out. If a particular school's contract wasn't being renewed by its old authorizer, most would be hesitant to work with the school.
The cap was lifted last December following new legislation, but Moorehouse said authorizers recently said they will continue to have the same standards of the past.
"I will say it's pretty rare for a school to not have a charter renewed by one authorizer and then find another authorizer willing to charter them," Moorehouse said. "For a school to go to another authorizer and for them to be willing to charter them, it just doesn't happen."