Posted on
Tue, Nov 2, 2010 : 11:20 p.m.
Ypsilanti voters choose to provide stable funding for public transportation
By Tom Perkins
Ypsilanti residents appear to have overwhelmingly approved a charter amendment that will provide a dedicated source of funding for public transportation.
With eight of nine precincts reporting and absentee ballots counted, Ypsilanti residents have supported proposal by a margin of nearly 3-to-1.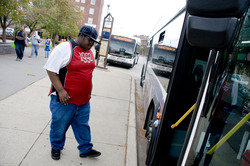 Tom Perkins | For AnnArbor.com
The .9789 mill Headlee Amendment override will allow the city to levy the full 20 mills in taxes allowed by the state instead of the 19.0211 mills it currently levies because of Headlee rollbacks.
The new tax will generate an additional $281,000 in its first year in revenue earmarked for public transportation. It will be levied when a current service agreement with the Ann Arbor Transportation Authority expires on June 30, 2011. Homes with a taxable value of $100,000 will pay an additional $97.80 annually.

The City of Ypsilanti's budget projects City Council spending $218,000 on busing in fiscal year 2011 and $281,000 in fiscal year 2012. The current 36-month contract with the AATA was paid for out of the general fund and with a one-time allotment of American Recovery and Reinvestment Act dollars. If the millage would have failed, the city would have had to continue drawing money from the general fund or cut service.
Should the county establish a long-discussed countywide busing plan, the City Council could choose not to levy the city tax unless a portion is needed to cover a difference in the new rate structure.
Richard Murphy, co-chair of Keep Ypsi Rollin', a group formed to campaign for the amendment, said he's thrilled with the results.
"We were hoping for a win, but I don't think we had dared to hope for a 75-percent win," he said. "I think that's a pretty strong statement by the voters that they recognize public transportation is important to the city and worth paying for."
Murphy said the group didn't need to convince voters of the millage's importance.
"We were telling people that transit was important for getting people to jobs, to school and allowing older people able to get out of their homes, and we were hearing back from them that they already knew these things," he said.
According to AATA statistics, 667,000 rides on their buses originated in Ypsilanti in 2009. Ypsilanti averaged 47 people boarding buses per service hour, compared to 32 people countywide. The bulk of respondents on a recently survey said they used the bus to get to school, work and for shopping.
Ypsilanti Mayor Paul Schreiber said he was pleased the City Council unanimously supported the proposal and talked to constituents about the issue's importance. He underscored its passage has an impact not only in Ypsilanti, but regionally as well.
"It really puts us — meaning Washtenaw County — in a great position to get a first class public transportation system because, let's face it, Ypsilanti and Ann Arbor are both college towns, and there are a lot of young people and young families," he said. "Public transportation is what the new generations need to get around, and I think that attracts them to Ypsilanti, Ann Arbor and Washtenaw County."
Schreiber and Murphy both said they understood some residents' concerns over paying more taxes in a bad economy. But they said they felt losing public transportation would have a more severe impact on the community than paying for the charter amendment.
"I think what people said tonight was that the investment is worth it in order to get a payback of people coming to Ypsilanti, Ann Arbor and Washtenaw County and being able to get around," Schreiber said.
Tom Perkins is a freelance writer for AnnArbor.com. Reach the news desk at news@annarbor.com or 734-623-2530.