Posted on
Wed, May 9, 2012 : 5:59 a.m.
As Ypsilanti voters reject 2 tax proposals, talk immediately turns to budget cuts
By Tom Perkins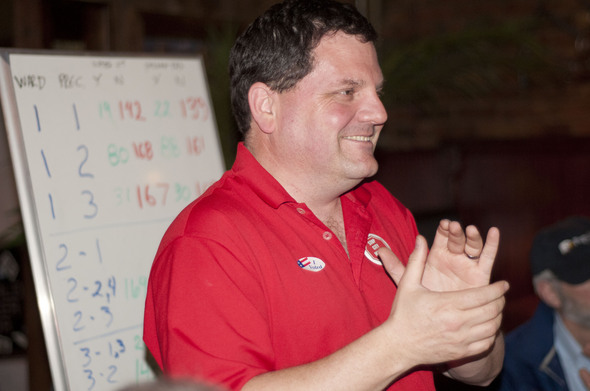 Tom Perkins | For AnnArbor.com
Ypsilanti voters rejected two new tax proposals by a margin of nearly two to one on Tuesday.
With all precincts tallied, 63.67 percent of voters opposed a Water Street debt retirement millage and 64.39 percent voted against a 1-percent citywide income tax, according to the Washtenaw County Clerk's Office.
Just more than 2,800 of Ypsilanti's 13,593 registered voters cast ballots.
The vote ended several months of campaigning for the taxes by the city and city council, which called the revenue-generating proposals essential to the city's financial health over the next five years. City officials say residents can now expect public safety cuts as one starting point for balancing the budget.
The Stop City Income Tax group campaigned hard against the proposals. They contended that taxes in the city are already high, and increasing them further would have a devastating effect on the business community and many residents.
Steve Pierce, a volunteer with SCIT who is active in local politics, said he kept hearing from voters fears that the proposals would be drive away new residents.
"(Ypsilanti's) millage rate keeps going up and up and up, and then having a city income tax on top of that - people are saying 'Why would I live here?'" he said. "If my son or daughter went off to college, what would bring them back to live and work here?
"Saying that we have an income tax and the highest property taxes in the region or state; it seems like that's a barrier and I think that's what connected with people."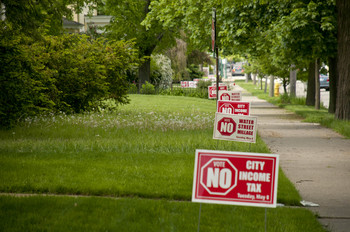 Tom Perkins | For AnnArbor.com
Mayor Paul Schreiber expressed his disappointment on Tuesday and said he believes Ypsilanti is in dire need of new revenue. He said longtime residents who he spoke with during campaign efforts were generally more opposed to the new taxes than those who moved here relatively recently.
"A lot of people move (to Ypsilanti) and businesses open here because they see the good things … but a lot of people who have lived in town a long time were not sure raising taxes was the right thing to do because it might scare people away," Schreiber said. "However, when I talked to people who just moved in, from what I recall, just about everyone said they support the income tax because 'I like living here and I want to keep police and fire.'"
Beth Bashert is chair of Save Ypsi Yes, which campaigned for the proposals and made the case that cutting city services further will drive away residents and businesses that are alarmed by the likely cuts to city services.
"The voters have spoken and they said very clearly they don't think new revenue is a solution," she said as the results came in. "Now it's up to city council, and I look forward to supporting their decisions over the next period of time. Cuts are going to have to be made and we're going to have to look for other solutions."
The proposals were integral parts of a five-year financial plan developed by city staff and city council that officials say will avert a $6.1 million deficit projected for 2017.
Last week, city staff presented a two-year budget that assumed no new revenues and called for the layoff of seven firefighters. If the city can't secure grants, officials say those layoffs, and further cuts to city staff, will be necessary
The income tax would have been set at 1-percent for residents and corporations and 0.5-percent for those employed in the city, including 6,000 Eastern Michigan University employees. It was projected to generate $10 million through 2017, according to an income tax analysis commissioned by the city.
The city is paying $30 million on its Water Street bond debt. It must continue to make payments through 2031, and the amounts will grow to $1.7 million annually by 2015.
The Water Street debt retirement millage residents saw on the ballot was for 4.94 mills in fiscal year 2013. That rate would have grown to 7.12 mills by 2017. But as part of the five-year plan, city council voted to use savings to pay half the Water Street debt. That would allow the city to cut the millage rate in half.
In that scenario, homeowners would have paid a new millage rate of 2.35 mills in fiscal year 2013, then up to 3.55 mills by 2017. The full millage was projected to generate $7.7 million.
"Council's chore now is to balance the budget the best way we can with revenues we have," Schreiber said, adding that they need to talk about cuts to public safety because general fund money that is used to pay for police and fire must go toward Water Street payments.
He also highlighted that the city already has reduced its staff by 30 percent over the last 10 years.
"We've really got nowhere else to go," he said. "The only good thing I can say is council has a very clear direction from voters that (they) don't want increased taxes or new revenue, and council is going to have to deal with revenues we have. That means we're going to make some unpopular decisions."
The first of three budget meetings is on May 10 at city council's chambers, and several council members said they would "love" to hear SCIT's suggestions at the meeting.
"I look forward to a lot of people showing up to the budget meetings to offer their input," Council Member Brian Robb said.
Council Member Pete Murdoch said the city needs to develop a new five year plan but said it is going to be "very difficult." He opposed the 2007 income tax proposal, but changed positions this time around, which has angered many of his supporters.
"The situation is a lot more serious now than it was before," he said. "I tried to spell that out over the last year when we were going through the process of developing the five year plan that if we didn't develop the plan, we're just going over the cliff.
"People are just angry ... and this is what you get."
Schreiber said he "wouldn't be surprised" if some of those opposed to the taxes ran for city council as happened during the 2008 elections that followed the 2007 proposal. It failed by a similar margin.
"I would say to people considering to run that last time we had that happen, we had people change their minds once they got on council," Schreiber said.
The deadline to file is May 15.
"Elections in Ypsilanti are always ugly and this one was no different. It's good that it's over, but now we have to pick up the pieces and figure out where to go," Robb said. "Unfortunately we're going to turn around and have another ugly election in 2.5 months."
Later in the evening, as Pierce gave a speech to SCIT volunteers following their victory, several supporters called for turnover at the council table, though no specific names were mentioned.
Pierce only replied, "not tonight," and urged the group to continue using its energy to fix Ypsilanti's financial situation.
Pierce later said he thinks the city needs to rethink how it delivers services and highlighted that Ypsilanti still has some money in reserves
"This is not a time to celebrate as we have some financial challenges," he said, adding that he didn't see any easy answers. "I hope the answer is not to just start slashing employees … but I think we need to change the way we spend money and allocate the resources that we've currently got."