Posted on
Wed, Jul 24, 2013 : 5:58 a.m.
Ypsilanti middle school program gives students opportunity to prep for IB education track
By Chelsea Hoedl
This fall, Ypsilanti Community Schools will offer fifth- through eighth-grade students the opportunity to partake in a four-year program to help prepare students for the 11th and 12th grade International Baccalaureate program offered at Washtenaw International High School.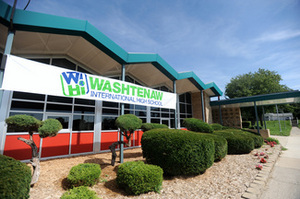 WIMA, one of four Small Learning Communities being offered to middle school-aged students by Ypsilanti Community Schools, will take a holistic approach to learning through critical thinking and collaboration.
"We want the students in this program to be in the position to take full advantage of the IB program available to them at the high school level," said Lambert Okma, principal at Washtenaw International High School. "The program has been very carefully structured to provide sequenced instruction, connect subject matters and utilize mastery assessment so we know where each student stands."
The program is open admission and will accommodate between 200 and 220 students. Capacity for the program ultimately will be determined by physical space. Also, there are no plans to require students to apply to the program or meet any prerequisites.
WIMA will operate out of its own wing in WIHS at 501 Emerick St. All other Small Learning Communities will be held in the Willow Run Complex at 235 Spencer Lane.
Okma said the goal is to prepare students for ninth and 10th grade IB preparatory courses that eventually will lead to the 11th and 12th IB program, but students are not required to follow the IB track.
WIMA is not officially an IB program, but Okma said the program will begin the application process in the fall of 2014.
According to Okma, the application is a three-year process that incorporates fifth through eighth grade students and the preexisting ninth and 10th grade preparatory program into one program called The Middle Years.
"It's a challenging program," Okma said. "But the benefits are both short-term and long-term. Students will build the habits necessary to succeed later on and in the short-term, the curriculum will be enjoyable, satisfying and meaningful."
The curriculum is meant to be engaging, Okma said. Students will work on projects, conduct research and interact with the material on a daily basis.
"The standards are high, but we help our students over the bar," Okma said. "It's engaging, satisfying work and they will get a lot out of it."
The nine teachers set to instruct the program will work with administration to create an environment conducive to learning.
"It's all about building culture," Okma said. "That's really the success of our program. The environment a student works and learns in has a huge impact on his or her ability to learn. When the environment is a positive one, learning can take place."
Okma said WIMA will offer students a unique opportunity to garner the skills necessary to succeed and embrace the rigorous course work offered in the IB program at WIHS.
"We're really happy to bring this program here to the Ypsilanti-Willow Run area," Okma said. "We feel like it's a great opportunity for the community and for students to build skills that will help them succeed in the future."
Chelsea Hoedl is an intern reporter for AnnArbor.com. She can be reached at choedl@mlive.com.