Posted on
Mon, Feb 4, 2013 : 10:20 p.m.
Ypsilanti-Willow Run school board unanimously approves name for new consolidated district
By Danielle Arndt
The unified Ypsilanti-Willow Run school district is nameless no more.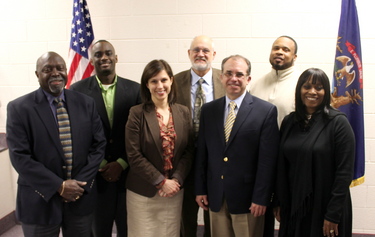 The joint Board of Education unanimously approved Monday calling the new consolidated district "
Ypsilanti Community Schools
."
Trustee Maria Sheler-Edwards, co-chairwoman of the unified district naming committee, said the committee, which was comprised evenly of staff members and parents from both districts, immediately dismissed Ypsilanti United School District as an option.
That left Ypsilanti Community Schools and Eastern Washtenaw Community Schools.
Sheler-Edwards said after these three finalists emerged from the list of more than 280 name proposals, the committee received a vast array of additional public input from a variety of outlets and polls among community members.
"What was most immediately clear was that Ypsilanti United was a very distant third," she said.
The committee took a vote on the remaining two names and voted 8-3 in favor of Ypsilanti Community Schools. However, the committee chose not to endorse one over the other and brought both names back to the table Monday for the board to decide.
Sheler-Edwards said the committee's caution and hesitation was in wanting to equally uphold the history, honor and tradition of both districts. Willow Run Superintendent Laura Lisiscki explained the "community" part of Willow Run Community Schools was, historically, the most important part.
She said when the change was made from "public schools," it was because the district consciously was moving toward embracing what it meant to employ a community school model and philosophy and was focused on embracing a "we're all family" mindset.
Lisiscki also said school districts in Michigan traditionally are named after the city in which they are located.
When the naming committee conducted the public forums and spoke with others in the community, "people spoke passionately about how Ypsilanti is the thing that we share," Sheler-Edwards said. A number of board members echoed the sentiment, adding it would be important for uniting people moving forward.
Vice President Don Garrett, a Willow Run High School graduate, made the motion to adopt Ypsilanti Community Schools as the district's new name, but not without an explanation.
He received so many phone calls about "killing Willow Run" and "Willow Run getting buried," that he "wanted to change his phone number," he joked at Monday's meeting. But he said when he thinks about Willow Run, it is the family aspect and that close-knit characteristic that stick with him.
"Everybody knows everybody, ... and when it comes to our kids I want the whole city of Ypsilanti to feel that way... To embrace that we are one city, one family," Garrett said.
Garrett said if the new district were to be called Eastern Washtenaw Community Schools, people would lose their identity. Even Willow Run parents and students associate with living in Ypsilanti, he said.
Danielle Arndt covers K-12 education for AnnArbor.com. Follow her on Twitter @DanielleArndt or email her at daniellearndt@annarbor.com.