Posted on
Fri, Jan 11, 2013 : 2:26 p.m.
Ypsilanti woman, daughter featured on 'Katie Couric Show' to discuss rare syndrome
By Katrease Stafford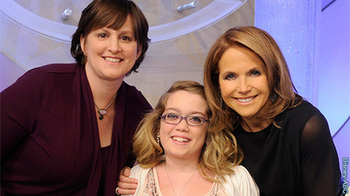 Courtesy photo | KatieCouric.com
An Ypsilanti woman and her daughter appeared on the "Katie Couric Show" Tuesday to discuss children with health conditions that can be difficult to comprehend, MLive reports.
Adrian College adjunct professor Cristina Trapani-Scott's daughter Kiki Peck has Kniest syndrome, a rare form of dwarfism.
The episode was about a book written by Andrew Solomon, titled "Far From the Tree: Parents, Children and the Search for Identity."
Peck, 14, has difficulty with range of motion and walking. She was born without type II collagen in her cartilage, making her bones thinner and weaker than average, according to MLive. The mother and daughter talked about how their relationship has been strengthened due to the syndrome.
Read the full MLive article here.
See a video clip of the episode below: