Ypsilanti Township attorney 'shocked to the core' by brutal 2009 rape, says state reform needed
Posted on Thu, Oct 18, 2012 : 5:59 a.m.
The news of a brutal 2009 rape in Ypsilanti Township has a local official so incensed that he wants the township to "lead the cause" against the delay in rape kits and other evidence being processed in violent crimes.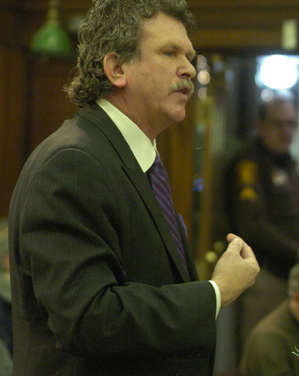 File photo
Ypsilanti Township Attorney Doug Winters said he was astounded and stunned to read in a Tuesday AnnArbor.com story that it took more than three years after the assault and rape occurred for a suspect to brought forward.
In the report, a 43-year-old Ypsilanti Township woman told police a stranger armed with a handgun and a knife had assaulted and raped her on a mattress in the woods in the township.
Anthony Derrick Chandler, who is 40 years old, is accused in the violent attack, appeared in the Washtenaw Circuit Court on charges related to the crime for the first time Monday.
Winters attributes this delay to the fact that state budget cuts have been made to the Michigan State Police Crime Lab. Winters said he believes the lab has been "put on the back burner" by the Michigan Legislature and Governor Rick Snyder.
"(It) has shamefully resulted in criminal sexual predators being allowed to roam freely throughout this state — in some cases for years — while the state drags its feet in apprehending these predators when we have the technology at our fingertips to have these predators identified, arrested and prosecuted for their heinous crimes in a timely manner," Winters wrote in a letter to the Ypsilanti Township Board of Trustees.
Read the entire letter here.
Township Supervisor Brenda Stumbo told AnnArbor.com she agrees 100 percent with Winter's letter. Stumbo said what happened was "horrible" and things must change.
"You have to put yourself in the victim's shoes," Stumbo said. "She has walked around for three years not knowing."
Stumbo said the township will discuss this at the board's Monday meeting.
After that, Stumbo said a resolution will be drafted at the next subsequent meeting. If approved, the township likely will send the resolution around to other neighboring cities for their consideration and then mail it off to elected officials.
"Public safety has to be a top priority and this is part of it," Stumbo said. "To have one crime lab for the whole state, it's unacceptable. Our goal is to try to push the issue. It's kind of sad that there's only one crime lab for the whole state."
Winters said he's seen it take up to a year for a rape kit and other evidence to be processed, which he says are crucial to any case.
"It's been a lot of cutbacks in staffing and funding levels. There's been a partial increase in the last year (in funding) but it's nowhere near adequate. I can't even find the words to express the outrage."
According to the Michigan State Police website, the most recent data shows the state's Forensic Science Division provided services in 2010 to more than 57,000 criminal offenses.
For these 57,000 offenses, 87,800 work requests involving over 97,500 evidence examinations were completed. These numbers include rape kits as well as other evidence.
Winters said while he's aware it does take time to process evidence, he believes more can and should be done.
"Men and women should be outraged to know they have rape kits lying on these shelves," he said. "It's not like a library book you take and put back down when you want. These are people's lives that have been impacted. When I read it, I was just extremely bothered by it to the point that something needs to be done."
Winters said the township board can serve as a linchpin that can start a broad based coalition involving other communities.
"This has touched a nerve. I'm making contact locally and in Lansing because we're not going to settle for this. I don't think anyone that lives in the community should settle for it. Sometimes it takes a spark."
For Winters, that spark was this case and he hopes to prevent this from happening in the future.
"I think its time for all the good people who are fed up with budget cuts that directly impact the quality of life to get involved," Winters said. "I can't think of one thing that has more paramount importance than public safety, so where's the leadership? If we are leading the fight, I'll join in."