Posted on
Thu, May 9, 2013 : 2:44 p.m.
Ypsilanti's budget: General fund revenues expected to increase 7.25 percent
By Katrease Stafford
Ypsilanti City Manager Ralph Lange announced during the city's first budget session of the year that general fund revenues are projected to increase 7.25 percent.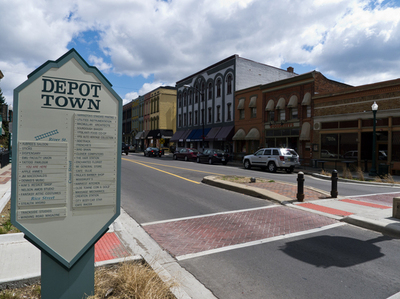 Steve Pepple | AnnArbor.com file photo
Lange said Tuesday the city's revenues will increase from $13,252,090 in fiscal year 2012-13 to $14,212,047 in fiscal year 2013-14.
"If it wasn't for the Water Street debt, we would have a balanced budget," Lange said. "We're going in the right direction. We're projecting the revenues will increase a million."
The city owes $24,764,695 on the Water Street debt and to date, the city has paid $4.6 million of the debt. The payments, and interest rate, are expected to increase as the city continues to pay through 2031.
The debt repayment schedule shows two payments are due each year and the first 2013 payment of $848,783.75 was due May 1 of this year. The next payment, $435,070, is due Nov. 1. Officials have discussed refinancing the total debt in the near future.
However, Lange said the city has already rescheduled and reduced the interest on its Water Street related Community Development Block Grant program loan through the U.S. Department of Housing and Urban Development from 4 percent to 2 percent in fiscal year 2012-13.
"It's one of the things I'm most proud of," Lange said. "That gives us very critical breathing space."
Lange noted the city has also been meticulous in its hiring. The city lost 18 employees between Jan. 1, 2012 and May 1, 2013 and only hired or rehired five individuals.
Lange also said the city's housing and business markets are expected to continue improving over the next year.

Courtesy City of Ypsilanti
"The proposed fiscal year 2013-2014 budget is based upon the 2013 taxable value of $289,614,595, which is .38 percent lower than the fiscal year 2012-2013 taxable value," Lange wrote in the city's budget packet. "This decline is much less than that experienced each of the last five years and reflects the reported stabilization of the real estate market locally."
According to Lange, property tax revenues for FY 2013-2014 are projected to be about $308,046 higher than originally projected due to an increase in the fire and police retirement millage from 7.403 mills in 2012-2013 to 8.9229 mills in 2013-2014.
Council will have its second budget session Tuesday, May 14 and police Chief Amy Walker, fire Chief Max Anthouard, Ypsilanti Downtown Development Authority Tim Colbeck, and Finance Director Marilou Uy will present their budgets.
Katrease Stafford covers Ypsilanti for AnnArbor.com.Reach her at katreasestafford@annarbor.com or 734-623-2548 and follow her on twitter.