Posted on
Thu, May 10, 2012 : 9:45 a.m.
Ypsilanti's Depot Town to host annual dog parade
By Tom Perkins
This story has been revised to add missing details about the event.
Washtenaw County's pooches and pups are invited to take part in Depot Town's March of the Mutts Parade.
The event was formerly the Saint Pawdy's Day dog parade and held in March, but organizers moved it to May for warmer weather.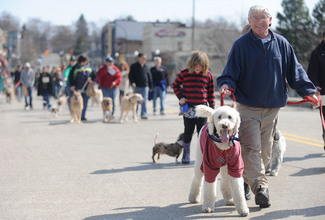 Angela J. Cesere | AnnArbor.com
The Saturday parade also features contests, including cutest dog, best costume, dog that does the best tricks, dog that is the best swimmer, smallest dog and owner who looks most like their dog.
Last year the event saw about 100 dogs join the parade and $600 was raised for charity. There is a suggested donation of $5 to register a dog in March of The Mutts, and all proceeds are split by the Humane Society of Huron Valley and the Depot Town Merchant's Association.
The HSHV will be at the event and have dogs who are available for adoption. The Merchant's Association helps put on the parade, Thursday Night Cruise Nights, an annual chili cook off and other events that promote Depot Town.
The parade starts in front of Sidetrack and travels through Riverside Park to the stage, where judges pass out the awards.
Registration is at 10:30 a.m., the parade starts at 11:30 a.m. and every dog who enters receives a treat.
"We've been doing it for three years and it's kind of a fun event to kick off the summer," Sidetrack owner Linda French said. "And it raises awareness for the Humane Society, who will be there - it's really all about them."