Posted on
Fri, Mar 29, 2013 : 12:13 p.m.
Growing Hope sets $20K fundraising goal for new raised-bed garden program
By Katrease Stafford
Growing Hope, an Ypsilanti nonprofit, has launched a $20,000 fundraising campaign to pay for a new raised-bed garden program.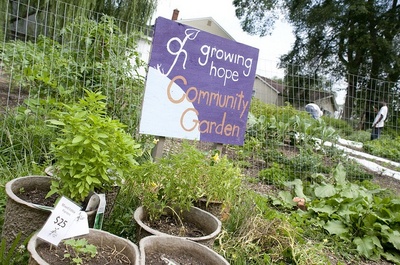 Tom Perkins | For AnnArbor.com
Growing Hope has set an April 22 goal on its Kickstarter campaign to fund the organization's new program, Fueled by Veggies. As of Friday morning, $3,834 has been raised, with 24 days to go in the campaign.
According to the Kickstarter page, the organization has installed 170 above-ground, raised-bed vegetable gardens for low and no-income families. For the first time, Growing Hope wants to offer similar garden installation services for pay to the general public, as well as other services.
"This Kickstarter project will allow us to make a fundamental shift in how we and most nonprofits run, by generating sustainable revenue to help our community grow, without being dependent on sources like grants," Growing Hope wrote.
The nonprofit, led by executive director Amanda Edmonds, is shifting its model, so it can grow and sustain on its own. This would enable it to develop an ongoing revenue model.
"In order to make our business cost-effective and sustainable, we're going to convert a diesel pickup truck to run on waste vegetable oil, and seek out some local storage and shop space for supplies," the nonprofit wrote.
If the $20,000 goal is met, the funds would be used to support the truck conversion and build out the waste, veggie oil filtering and storage systems. The money would also allow Growing Hope to install veggie gardens for free for 20 low-income families and build 40 more grow light stands and seed starter kits. The seed kits will be "adopted" by 100 households in the Seed Starting Squad, who grow more than 8,000 seedlings for Growing Hope.
The announcement of the new program comes a few weeks after the Ypsilanti City Council voted to legalize gardening on vacant lots. The ordinance revision also legalized raised-bed gardens in front yards.
See the video below created by Growing Hope for its Kickstarter campaign: