Ypsilanti's Heritage Festival adapts and evolves in the face of financial challenges
Posted on Tue, Jul 10, 2012 : 5:58 a.m.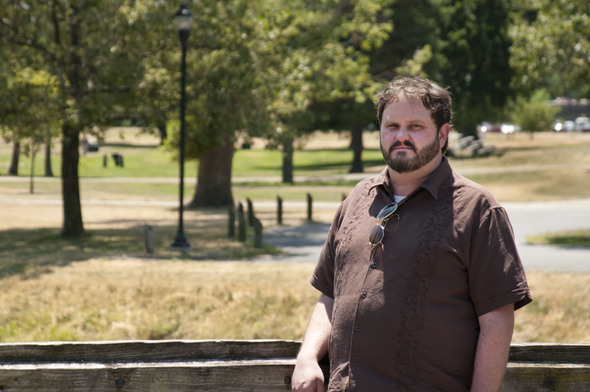 Tom Perkins | For AnnArbor.com
Like the city as a whole, Ypsilanti's festival dedicated to its history and heritage is facing financial challenges.
But, like the city, its leaders are working to make changes that have a minimal impact on the final product.
New Ypsilanti Heritage Festival Director Andrew Clock was hired in January and tasked with producing the same vital festival with $25,00 lopped off last year's approximately $130,000 budget. That challenge also was presented while working with an almost entirely new steering committee and staff.
While Clock describes the Heritage Festival's financial situation as "precarious" and doesn't offer any guarantees beyond 2012, he also said the reductions have mostly been behind the scenes and on luxury items that will keep the face of the festival essentially the same this year.
"It definitely has been a challenge," Clock said. "But a lot of the things that we're cutting are on the infrastructure side of things so that guests may not notice, but it might make things a little more difficult on (volunteers and staff)."
For example, the PA system for the entertainment is slightly smaller than last year. The stage area has been moved into the beer tent to save money and perhaps generate more revenue by keeping beer closer to the crowd.
The Heritage Festival also will not be officially present on the Cross Street bridge or officially sponsor anything happening in Depot Town. Clock said that change was made for several reasons.
First, budget cuts impacted the decision and he said the Depot Town Merchant's Association expressed interest in handling events on the street this year. The association will hold an antique auction, among other events.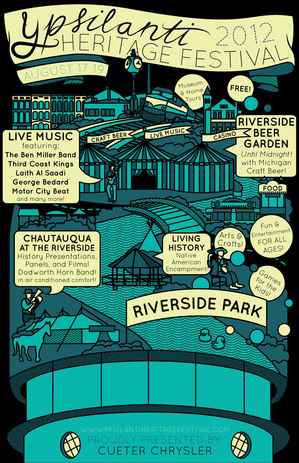 The city also has asked that the festival be fenced in this year, which made including Depot Town and the bridge in the festival's footprint logistically challenging. But the fence will help increase security, Clock said, and possibly reduce the festival's police costs because the area will be more secure.
If someone is removed from the festival, for example, the fencing will make it harder for them to simply walk back in, meaning less officers will have to be present.
"Ultimately, it's going to make it a safer event," Clock said. "Not that there was a problem before, but it gives it a perception of safety and helps out."
The city also raised rental fees two years ago and implemented a $1,000 a day capital park improvement fee. Additionally, parking rental has increased by $250 per day, Clock said.
"It has become harder and harder to put on this, or any other, festival here, and (it's) very hard to keep things free," Clock said. "City cost are already projected to be a full quarter of this year's budget, and that's a big obstacle to overcome for any event, especially a free festival."
The addition of fencing also makes the possibility of charging a dollar or more as an entry fee a possibility, and Clock said the idea was discussed.
"That's something that we've considered and something the city kind of wanted us to do at first," he said. "It's not a terrible idea, but we've always been a free festival and a lot of people look forward to the event. They can come out, it's affordable, they don't need $25 to $50 - they can come out enjoy and the entertainment for free and we would like to keep it like that as long as possible."
One of the brighter spots has been in corporate sponsorship efforts, Clock said. This year Cueter Chrysler is the presenting sponsor, which the festival has not had in recent memory.
Clock is trying to make some changes to the variety of entertainment that will attract more of Ypsilanti's younger generation. On that front, he has a solid lineup of musicians for the LaFontaine Main Stage. Having it under the beer tent means music can run until midnight. Some of the lineup includes The Third Coast Kings, Laith Al Saadi, The Ben Miller Band, George Bedard and the Kingpins, Motor City Beat, Ryan Racine and Gas for Less and more.
A second stage at the gazebo on the Huron River will feature music and dancing from local bands and solo artists like Devil Elvis and Blues Infusion, as well as the Ypsilanti High School Jazz Band and several music and dance ensembles from Washtenaw Community College.
Casino gambling also will return, and local businesses Arbor Brewing Co. and Wolverine State Brewing Co. will provide craft beer.
But that doesn't mean all the old favorites are gone. There's still the rubber duck race, parade and vendors, plus more kids and family events than in the past. All the fun, however, will happen in a smaller footprint.
This year's theme was originally planned to celebrate the bicentennial of the war of 1812, but Clock said many of the groups involved with that weren't available. Instead, the festival will celebrate Ypsilanti's history.
Overall, Clock said the he is pleased with the changes the festival is undergoing, most of which he describes as minor.
"I think the way we spent money is going to get us a lot more bang for our buck," he said. "It will help sustain the festival moving forward."
"All I can do is look forward, look to create new sources of revenue for the festival, and beef up our sponsorship, and I think we've done a good job of that so far," he added.