Posted on
Fri, Mar 15, 2013 : 5:58 a.m.
Ypsilanti's residents offer ideas for crafting city's future as master plan revision begins
By Tom Perkins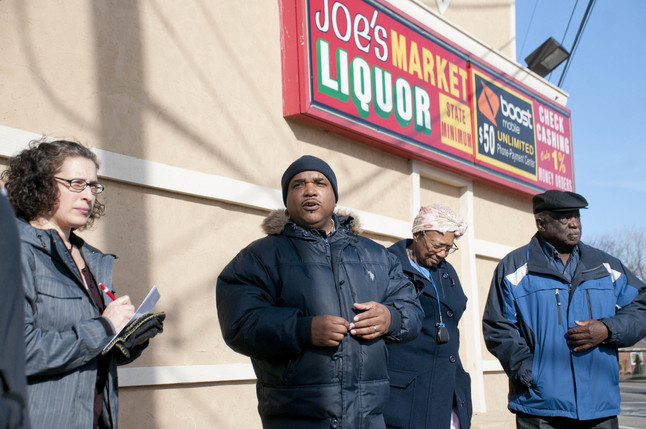 Tom Perkins | For AnnArbor.com
Darryl Dennard sees the renovation of the Hamilton Crossing mixed-housing complex as the first in a series of larger improvements on Ypsilanti's southside.
As he chatted with a group of civic and city leaders during a walking tour of the neighborhood, he laid out what he would like to see happen next now that there are 144 more multi-family units filling up fast.
Dennard, who serves on the Hamilton Crossing Board that oversees the complex's management, says recreation for kids and families is lacking. He wants to see "positive" activities like basketball, bowling or other options that will get kids exercise.
He also wants to see downtown Ypsilanti become more of a tourist destination with more shops and restaurants, which he said also brings new jobs.
Dennard said he understands his ideas won't happen immediately, but he liked that city and community had begun thinking about larger ideas for improving Ypsilanti over the coming years.
"Hamilton Crossing is the newest revitalization of a complex in the area and the beginning of a revitalization of the whole area," he said. "Planning like we are here is the next step in the right direction."
City planning officials, along with the planning consulting firm ENP and Associates, are gathering resident input on ideas that will serve as the foundation for an extensive planning process designed to improve Ypsilanti over the next decade while maintaining what is working. The process will end in nearly two years with a master plan officials hope will guide the process of turning the ideas into reality.
The weeklong input session culminates on Friday at 5 p.m. at Spark East, where planners will present the ideas they have heard from residents and how they will begin reshaping the community.
The walk through the southside, or "Gateway District" as some residents call it, took the group to the Parkridge Center, Hope Clinic, Michigan Works and Hamilton Crossing. Representatives from each of the organizations spoke to the group and discussed their role in the community.
City Planner Teresa Gillotti echoed Dennard in his assessment that the area is changing due to the improvements at Hamilton Crossing and the number of families it's adding to the area.
She said it was important during the walk to see how people are reacting to those changes, and added that the walk, which took the group of 30 all the way to the intersection of Harriet Street and South Huron Street, highlighted one of the biggest demands brought by the improvements.
Nowhere near the multi-family housing development that is surrounded by a dense neighborhood is there a regular place to buy groceries or a significant retail district.
The group had to walk down the always busy Harriet Street to get to Joe's Market Party Store, the nearest store that provides basic groceries.
"We learned it's a difficult corridor for walking," Gillotti said. "That's something we all went away with: 'When you're on Harriet Street, you're not having the most pleasant walk.
"(The area) is definitely lacking in neighborhood stores and other amenities," she said.
Council Member Ricky Jefferson praised Joe's for the service it is providing the surrounding community as one of the only nearby options for very basic groceries. He said the owners regularly donate to neighborhood events and applauded them for installing a new facade and other improvements they made to the immediate vicinity.
"It helps out - that's an entryway to the city," he said.
Among the group was Jefferson; Heritage Park Neighborhood Association president John Brown; Parkridge Center's Anthony Williamson; former Mayor Cheryl Farmer; Ypsilanti Housing Commission Board member Tabitha Moore; Kiwanis Club of Ypsilanti President Shataura Clayborne and more.
The walk was one of three planned throughout Ypsilanti's neighborhoods.
On Wednesday, a group walked between Eastern Michigan University student center to downtown to discuss the relationship between the university, downtown and in between neighborhoods.
Later in the day, community members walked from Depot Town to downtown Ypsilanti and discussed, among other topics, what will happen once there is a commuter rail stop in Depot Town, ideas for the vacant Boys and Girls Club of Ypsilanti and the Water Street project.
A temporary studio was also open in downtown for two days. Residents and business owners were invited to stop in and share their thoughts and ideas. Those who stopped by the studio could comment on a board which asked which commercial areas residents frequent, which they avoid and why they avoid certain areas.
Residents were also given one on one time with planners to discuss ideas if they wanted.
Gillotti said she is pleased with the range of community members who have turned out.
"We've heard a lot of big picture ideas on what people want to create, preserve and change," Gillotti said.
Tom Perkins is a freelance reporter. Reach the AnnArbor.com news desk at news@annarbor.com.