Posted on
Mon, Mar 19, 2012 : 5:57 a.m.
Ypsilanti Public Schools teachers finding ways to fund projects, additional supplies
By Danny Shaw
Note: The caption for the second image in this story has been updated. The kindergartners do not have a class nap time.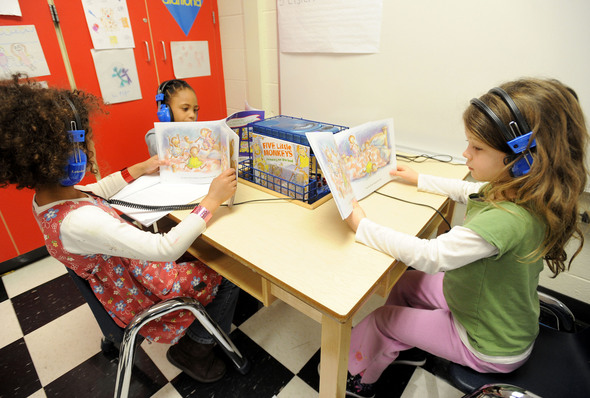 Angela J. Cesere | AnnArbor.com
Students in
Krista Boyer
's kindergarten class at
Perry Child Development Center
have been using a new reading corner, listening to audio books at their updated listening center and playing with more toy sets.
Boyer was able to provide all of it without costing Ypsilanti Public Schools a penny.
Boyer is one of several Perry CDC teachers spending time outside of the classroom to find alternative ways to fund projects and get additional supplies for her students.
With districts across the state running on deficit budgets, including YPS, Boyer said it's crucial for teachers to find other outlets to help fund classroom projects.
"I look at the faces of the children in my class and they deserve so much more than I can possibly give them," Boyer said. "Their faces are what make you dig to find the materials they need."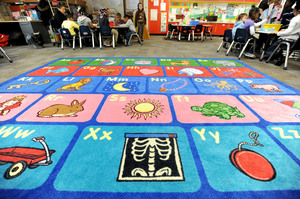 Angela J. Cesere | AnnArbor.com
She was the first in the building to use DonorsChoose.org, an online charity where teachers can ask for donations for various projects. Donors are from across the nation and can scroll through projects until one inspires them to donate. Donations can be anywhere from $1 to the full amount requested.
"It's such a morale booster as a teacher to know people from around the nation gave to my classroom to help my students succeed," Boyer said, smiling. "It gives me hope. It's amazing."
Since August, Boyer and nearly 20 other Perry teachers have received funding from various outlets for projects, classroom supplies and field trips.
Perry CDC Principal Sharine Buddin said she commends the donors for their contributions to her school, but thanks the teachers who go above and beyond for their classroom.
"There are wonderfully creative ways out there and I'm especially proud of our teachers that have done things like that because this is something they're doing on their own personal time," Buddin said. "It's something we shared with the entire staff as an opportunity to look for funding for their special projects."
There are 10 projects posted on DonorsChoose.org for the Ypsilanti area.
Emma Jackson, YPS public relations director, said while the district doesn't directly track the grants and donations teachers receive for their classrooms, she thinks more teachers are seeking additional funds than in previous years.
Superintendent Dedrick Martin said while the times might be tough, he is proud of the teachers going that extra mile for their students.
"It's a testament to the extraordinary teachers we have in Ypsilanti," Martin said. "It's also a reminder that people care. These teachers truly care, and the community truly cares. It's great."
Other teachers in the district are finding additional funding for projects as well. Ypsilanti High School science teacher Lakesha Barton has been working on a grant-funded community garden with her students since last year.
Barton said the 4-by-12 garden received donations for compost bins, gardening supplies and soil, including a $2,000 grant from Whole Foods in February. She said going the extra mile by searching for grants is well worth the work.
Barton applied for some grants through KidsGardening.org and said her students couldn't be more appreciative of the help they've received over the last year.
"I had a great time and I can bond with classmates more," YHS senior Daeja Raglin said. "We learned more about planting and gardening. It's beautiful and more hands-on. It's a great thing for us. We can give a lot back to our community with our crops."
Barton said her class will be expanding the garden to include more fruits and vegetables and plans to donate some of the crops to the community.
"I can't express how much appreciation I have for these organizations and people who donate," Barton said. "We're able to have a part in helping our community. To say it's really appreciated is an understatement."
Contact reporter Danny Shaw at 734-623-2544 or dannyshaw@annarbor.com.