Posted on
Wed, May 15, 2013 : 4:19 p.m.
In search of the Tucker: Documentarian visits Ypsilanti, home of legendary car's inventor
By Chelsea Hoedl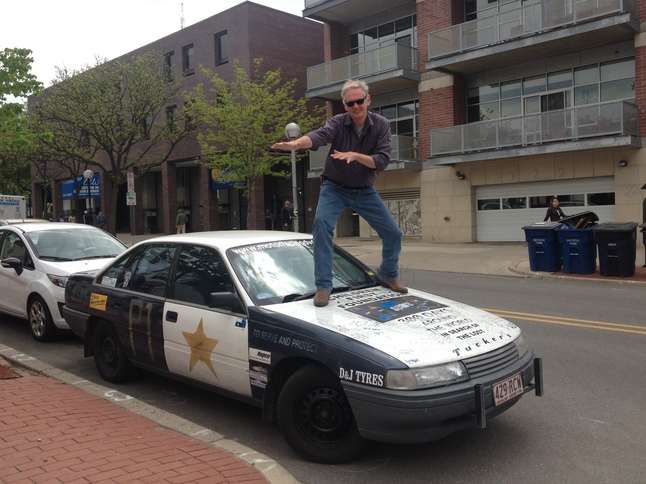 Australian documentarian Brendan Edgerton is traveling the world in hopes of seeing every Tucker automobile on the planet. On Tuesday, that quest led him to Ypsilanti, which was home to Preston Tucker, inventor of the ill-fated automobile that bore his name.
Tucker, owner of the Ypsilanti Machine and Tool Company and creator of the 1948 Tucker automobile, is known today for his innovation. The Tucker, which was manufactured in Chicago, is recognized for its rear engine and safety features, some of which, like seat belts, are still in use today. The Tucker featured a pop-out windshield, and center headlights that turn with the steering wheel.
Tuckers have become a collector's item since only 51 were produced and only 47 remain in existence. Production was halted because of a lack of raw materials after World War II and a lack of funds.
It was 'Tucker', the 1988 film starring Jeff Bridges that launched Edgerton's fascination with these rare cars that are valued at $1 million each.
"I thought it was a fantastic story," Edgerton said. "Then I googled it and found out it's not a story. It really happened. I did some more research and eventually joined the Tucker Automobile Club. I've been to a few conventions in America and I've seen quite a few Tuckers over the years."
Edgerton plans to make his Tucker quest into a movie. 'Around the World in 300 Days in Search of the Lost Tuckers' will be Edgerton's third documentary.
In Ypsilanti, Edgerton visited Tucker's old house on park street as well as the Ypsilanti Automotive Heritage Museum which has a replica of the Tucker. He said the museum had a lot interesting information that he will be including in his documentary. Edgerton also contacted Tucker's grandson, John Tucker, who lives near Ann Arbor. Edgerton will head to New York in the next leg of his trip.
The documentary focuses on Edgerton and his journey to find the rare vehicles.
"The documentary is going to be more about my car getting around the world and the adventure I have, but when I get to a Tucker that's my turning point. I do an interview with someone there, hopefully the owner, and film some interesting stuff along the way," Edgerton said.
Edgerton sends his Australian Commodore around the world by way of ship. He faces a wide range of challenges including legal issues, obtaining car insurance, and dealing with customs.
So far, Edgarton has seen 20 of the Tuckers across the United States and next plans to move on to New York. After that, he'll leave for Europe, where he plans to stop in England, Germany and Russia. Edgerton expects to complete his journey on Nov. 27. A final release date for the documentary has not been set.
Chelsea Hoedl is an intern for AnnArbor.com. Contact her at choedl@mlive.com