Posted on
Thu, Feb 14, 2013 : 5:58 a.m.
Zingerman's sees its future in Ann Arbor: 'We've got a longterm vision and we're not going anywhere'
By Ryan J. Stanton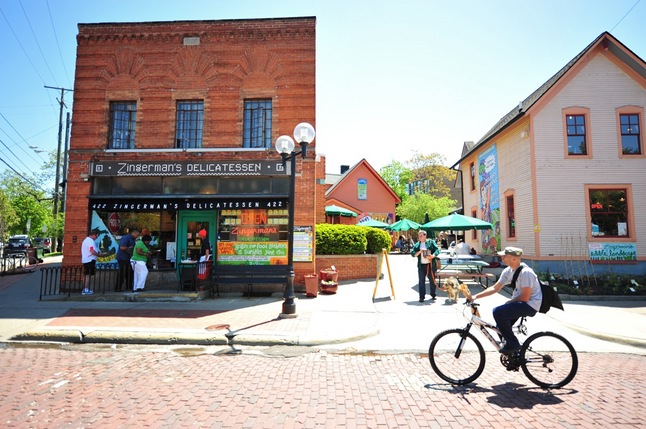 Ryan J. Stanton | AnnArbor.com
Before opening
Zingerman's Deli
in downtown
Ann Arbor
in March 1982, co-founders
Paul Saginaw
and
Ari Weinzweig
wrote up a business plan on an old Smith Corona typewriter.
"It was about three or four pages," Saginaw recalled. "And in it, we said that we wanted to serve a really great corned-beef sandwich."
Saginaw grew up in Detroit and Weinzweig grew up in Chicago. They were used to neighborhood delicatessens where you could get a corned-beef sandwich worth bragging about.
"And here we were in Ann Arbor in the late '70s, and it was a wasteland for that kind of food," Saginaw said. "You couldn't find a real corned-beef sandwich."
That's the abridged story behind Zingerman's humble beginnings as Saginaw tells it. Three decades later, the iconic deli at 422 Detroit St., which recently expanded, is famous beyond Ann Arbor's borders, but its owners still have no plans of expanding outside Washtenaw County.
Ryan J. Stanton | AnnArbor.com
"We had many, many opportunities to sell the brand," Saginaw said. "In the beginning, offers came in right and left on a regular basis. 'Here's the check, we're gonna take Zingerman's, we're gonna open up in every Big Ten town, we're gonna open up in every big city.'
"Really it wasn't what we wanted to do," he said.
Saginaw spoke about Zingerman's past, present and future during a Wednesday night forum on economic vitality and sustainability. He was joined by four other speakers as part of the Sustainable Ann Arbor series put on by the city and the Ann Arbor District Library.
One of a kind
Aside from serving up corned-beef sandwiches, which Zingerman's still does today, Saginaw said the deli's original vision included a commitment to remaining unique.
"And for us, by definition, that meant there was only one of you," he said. "We decided … if we were going to grow or expand, we would never do it by replicating. It would never be a chain."
That's why Zingerman's Community of Businesses has stayed local, even now with 18 partners across eight businesses and about 600 employees. Saginaw said he expects Zingerman's to end this fiscal year in July with more than $47 million in sales.
"We're here to stay," he said. "We've got a longterm vision and we're not going anywhere."
Zingerman's not too long ago added about 26 acres to farm property it owns outside of Ann Arbor, and that's one part of the company's strategy for longterm sustainability.
"There's a pre-Civil War barn that we're taking down, shipping to Ohio to have rebuilt and coming back going on a new foundation," Saginaw said. "That'll be an event space. There'll be a demonstration garden there. There's an old Victorian house where we're going to have cooking classes in there, and private dinners in there, too, and also have farm dinners."
Ryan J. Stanton | AnnArbor.com
Then there's the herd of goats Zingerman's bought recently.
"We're growing our goat herd because the people who supply us with goat milk in Michigan are disappearing and we need to protect that supply," Saginaw said. "We also have bought a herd of Tunisian sheep because we have plans for opening a Tunisian restaurant."
Two years ago, Zingerman's also helped launch an Asian food cart at Mark's Carts called San Street, which is run by Ji Hye Kim. They're now looking for a brick-and-mortar location.
Saginaw said Zingerman's has a vision that takes the company out to the year 2020, and in many ways it's a reaffirmation of the original vision.
Zingerman's is going to focus on becoming a much greener organization, with the goal of having zero carbon footprint and zero waste within seven years, Saginaw said.
It's also going to strive for more racial diversity in its partners group. The plan is to grow to 15 to 18 businesses — all within Ann Arbor — in the coming years.
Succession plan
Saginaw said he and his business partners also have been working for two years on a succession plan for Zingerman's, and they've got that figured out now.
"Within the next year, we'll be an employee-owned organization," he said. "We will offer the opportunity for ownership to a large sector of our employees. There are qualifications on that. You have to have worked for a year, and we're working on that right now."
Zingerman's also is working on "bringing the bottom up," as Saginaw puts it. By that, he means it's a goal to have every employee earning what he calls a "thrive-able wage" within the next year.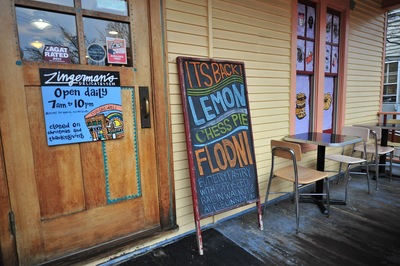 Ryan J. Stanton | AnnArbor.com
"We think a living wage is kind of a base minimum, and we want to have a wage our employees thrive on," he said.
Colleen Layton, director of policy development for the Michigan Municipal League, gave a presentation at Wednesday's forum that highlighted Zingerman's Deli as an example of what makes a community a great place to live and a great place for community gathering. She showed a photo of patrons filling the curbside picnic tables on the sidewalk outside the deli.
"Placemaking is about turning a neighborhood, town or city from a place you can't wait to get through into one you never want to leave. You know when you're there," she said. "The difference between great cities and good cities is the quality of their public spaces."
Buying local
Ingrid Ault, executive director of Think Local First, talked about the importance of supporting locally owned businesses like Zingerman's.
"There are lots of studies that indicate when you spend your money locally, it stays and recirculates in the community," she said. "One of the numbers you hear regularly is the multiplier effect: For every dollar that stays in our community, it recirculates three and four times."
And for every $100 spent at a local business, Ault said, about $68 stays and recirculates in the community, versus $43 that stays when that money is spent at a big-box retailer.
"That's a $25 difference," she said. "If that $25 is going to circulate three and four times more, all of a sudden your $100 means another $75 to $100 to your local economy."
Mary Jo Callan, director of the Washtenaw County Office of Community and Economic Development, also spoke to the importance of local businesses in economic terms.
"We know that traditional economic development where we vie for large, national and multi-national corporations looking for locations based on tax abatements and financial incentive packages isn't the way to build community or sustainable economic vitality," she said.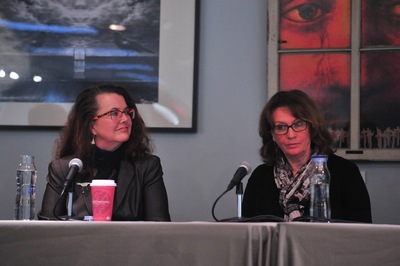 Ryan J. Stanton | AnnArbor.com
"We know that growing and supporting locally owned businesses through patronage and investing — whether it's the next big thing in IT or the corner coffee shop — keeps more money in our local economy, creates more jobs, and creates a more resilient economy and community."
Paul Krutko, president and CEO of Ann Arbor SPARK, said most talented college graduates are choosing where to work over whom to work for, and the quality of "where" is paramount.
"Many people talk about why Silicon Valley happened and why it continues to be successful," he said.
"This is the biggest reason: People from all over the world — regardless of where they came from, what community they work in, what their sexual preference is, what their political viewpoints are — find that they can come there and be free to express themselves and to find others they want to be with and work with. And I think that's something that Ann Arbor has and is going to be very key."
Giving back
Saginaw said he never had any interest in seeing Zingerman's grow to be the biggest business it could become. He said he cared more about staying local and building community.
"We believe that you earn your right to do business in a community, and you do that by being a responsible corporate citizen," he said.
Saginaw said giving back to the community — contributing to the social, cultural and educational vitality of Ann Arbor — was always part of the plan for Zingerman's, which established Food Gatherers, Washtenaw County's food rescue and food bank program, in 1988.
"We were going to build it into our budget from the beginning. It was a line item: rent, insurance, utilities, giving back to the community," he said. "And we felt that's the way a good business was going to operate. And if we weren't going to be able to do it from the beginning, then we thought that our business plan was flawed and we were going to go back and work on it again."
Ryan J. Stanton covers government and politics for AnnArbor.com. Reach him at ryanstanton@annarbor.com or 734-623-2529. You also can follow him on Twitter or subscribe to AnnArbor.com's email newsletters.