Updated:

Zingerman's Deli expansion gets OK from Ann Arbor Historic District Commission

Posted on Thu, Sep 9, 2010 : 10:29 p.m.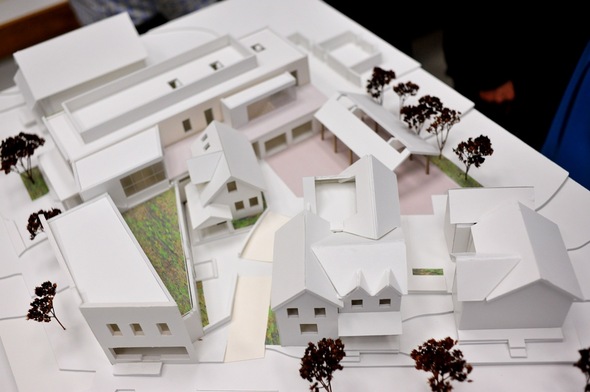 Ryan J. Stanton | AnnArbor.com
After years of trying to cut through the red tape of Ann Arbor city hall, perhaps it was fitting that Zingerman's co-founder Paul Saginaw finally celebrated the approval of his deli's downtown expansion project on his birthday Thursday night.
By a 6-0 vote, the Ann Arbor Historic District Commission paved the way for Zingerman's Deli to proceed with a major expansion of its downtown operations.
The HDC granted Zingerman's a special "notice to proceed" with demolition of a white house that once stood in the way of the deli's growth.
"Thank you," Saginaw told commissioners after the vote. "I think you guys approved it on the merits of the project, and I thank you very much."
Zingerman's now plans to demolish the house at 322 E. Kingsley St. to construct a two-story addition behind its deli building at 422 Detroit St. It also plans to install a permanent shade structure replacing an outdoor tent, among other site improvements.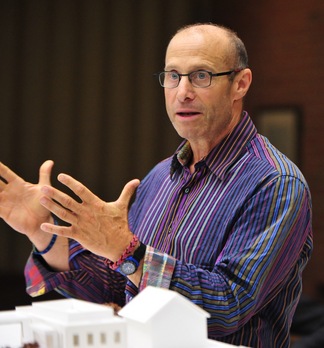 Ryan J. Stanton | AnnArbor.com
The HDC determined Thursday night that the fire-damaged house at 322 E. Kingsley St. is a deterrent to Zingerman's expansion — a project commissioners agreed offers "substantial benefit to the community." Two years ago, the HDC ruled that the home was historic and refused to let Zingerman's knock it down to expand.
Determining the expansion will be of "substantial benefit to the community" was a requirement for approval from the HDC on Thursday. Commissioners concurred with a city staff report that found Zingerman's demonstrated its project was worthy.
"The benefits go well beyond an increase in the tax base and new construction jobs, which by themselves are important, but would not be substantial enough to warrant a notice to proceed," the report reads. "Benefits particular to the historic district include moving the kitchen out of the deli, which will help preserve that historic structure, and restoring the exterior of the annex and incorporating it into a new addition that is an appropriate size and scale for the neighborhood."
Other community benefits noted include 65 new permanent downtown jobs, retention and intensification of downtown business activity as opposed to peripheral sprawl, increased support to local nonprofit organizations, increased entrepreneurial support for new local businesses, and sustainable design that is expected to obtain LEED silver or gold certification.
HDC Chairwoman Ellen Ramsburgh commented on the fact that it took so long for the project to receive approval from the city.
"I think that this process has been arduous for Zingerman's and for us, in a sense, and it's been beneficial for Zingerman's and for the Historic District Commission," she said. "The working sessions have been very helpful, and I agree with staff's report — I do think this is of substantial benefit. I think that it's time for the house on Kingsley to be removed and something active and vital to go in there."
HDC member Diane Giannola said the fact that Zingerman's is a world-renowned business that's helped put Ann Arbor on the map was a major factor in her vote on Thursday.
"Zingerman's is a destination," she said. "By helping Zingerman's expand and helping their project, we're really helping the city as a whole, and so it's the community that benefits from it. If it was any other business anywhere else in the city, it would not have the same effect."
Saginaw acknowledged he considered moving Zingerman's to a new location elsewhere downtown if it wasn't able to expand at its current location in Kerrytown, but he said Zingerman's would not have left Ann Arbor like some feared.
He thanked the HDC for working collaboratively with the deli on a plan that is both appropriate for the historic district in which Zingerman's is located and allows the business to grow.
"It would be disingenuous if I didn't admit to you that there was a point where I thought that if we had to keep the annex that the project wouldn't go," Saginaw told commissioners, referring to an orange house on the property that the HDC refused to let Zingerman's demolish. "You pushed us to work with that and, when I look at the renderings, I think it looks a lot better."
Ramsburgh said it helped that commissioners were comfortable with the modern-looking, two-story addition to the 1902-era deli building.
"If the structure had been totally inappropriate for the district, I think we would have had a difficult time giving a notice to proceed," she said. "Because the new addition is respectful of the surrounding area, it helped us to make a decision to allow the notice to proceed."
HDC member Lesa Rozmarek offered a hesitant approval of the expansion. She said she didn't think having a bigger building necessarily offered a substantial community benefit.
"But I believe that Zingerman's, as a business, is a substantial benefit to the community," she said. "They do a substantial amount of good for Ann Arbor. I would hate to see them leave Ann Arbor. I want to keep them in the near-downtown area and allow them to expand."
Zingerman's submitted a long list of reasons why it believed its project was beneficial to the community. It also submitted a letter from United Structured Finance Co., which discloses that the deli is in the process of seeking a $7.6 million loan for the expansion project.
HDC Vice Chairman Patrick McCauley was absent from Thursday's meeting.