Posted on
Thu, May 10, 2012 : 5:59 a.m.
Zoning changes could stop future 'mega projects' in Ann Arbor neighborhoods
By Ryan J. Stanton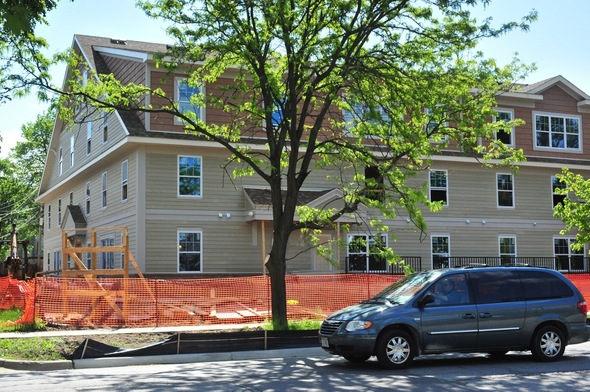 Ryan J. Stanton | AnnArbor.com
Developers in
Ann Arbor
could soon have a harder time demolishing homes and building large apartment projects in near-downtown neighborhoods.
A report three years in the making has been released by the city's R4C/R2A Zoning District Study Advisory Committee and it recommends a series of zoning changes.
Most notably, the report recommends a limit on lot combinations within the city's R4C zoning district, a multiple-family dwelling district that surrounds downtown.
The report contemplates restricting the maximum size of a combined lot in the R4C district to 6,525 square feet, which is the area needed to permit three housing units.
City Planner Matt Kowalski said in the future that would stop projects similar to the controversial City Place, a 24-unit, 144-bedroom student apartment complex taking shape on Fifth Avenue.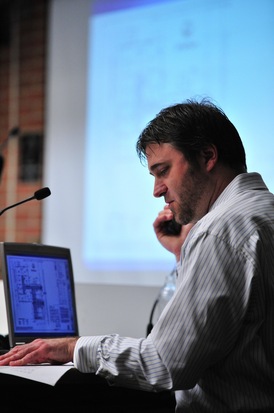 Ryan J. Stanton | AnnArbor.com
In order to pave the way for City Place, the developer combined several properties to achieve a 53,579-square-foot lot area and demolished seven century-old homes that stood in the way.
"With the limitation on the lot combinations, once that went in place, that would absolutely stop any project whether it's City Place or even a smaller 10,000-square-foot building," Kowalski said. "Without the ability to combine the lots and the maximum of 6,525 square feet, which is what we're recommending, that would pretty much eliminate any possibility of that."
City Place, because it conformed with the city's existing zoning ordinances, was considered a "by-right" project, and so city officials — even though they didn't like the project, and even though neighbors furiously protested it — felt they couldn't stop it.
The project, approved by the City Council almost three years ago, was the impetus for the formation of the R4C/R2A study committee in 2009. City Place is now nearing completion and is expected to welcome University of Michigan students as tenants by this fall.
The council appointed members to the advisory committee in September 2009, but it didn't hold its first meeting until December 2009.
The committee struggled at times to reach consensus and has been criticized for not coming back with recommendations sooner. But during a Planning Commission working session Tuesday night, the 16-page report presented by Kowalski was praised.
"This seems like a great report," said Planning Commissioner Erica Briggs. "It's exciting to look at this and see how much work has gone into it and how much consensus there really seems to be. It was such a huge, controversial project, and really, I mean, it's a few years later, but I think there are some really solid recommendations here."
Kowalski, who authored the report based on the committee's findings, acknowledged it was a longer process than some would have liked.
"But I give the committee a lot of credit," he said. "It's not a simple thing. I think R4C is one of the most complicated and diverse districts that we have out there."
The report is now in the Planning Commission's hands and there's interest in getting some of the recommended zoning ordinance changes to the City Council for approval soon.
"I would like to think we could expedite things and get some ordinance language drafted," said Planning Commissioner Kirk Westphal.
Maureen Sloan, CEO of the Builders and Remodelers Association of Greater Ann Arbor, said her group has no strong position either way on the proposed zoning changes.
"Of course, we believe in private property rights, so if someone owns private property, we don't want it too restricted," she said. "But most of our members are not building new developments in the city right now. We have a lot of remodeling going on."
Jeff Helminski, the developer behind City Place, could not be reached to comment. Helminski also was the developer behind The Moravian, another controversial student apartment proposal near downtown that was voted down by the City Council in April 2010.
In addition to lot combinations, the report recommends a number of other zoning changes, including some that remove incentives for developers to build five- and six-bedroom apartment units. The City Place project features almost entirely six-bedroom units.
Kowalski said there's been a shift toward six-bedroom rental units throughout R4C, which includes properties around downtown and in student rental areas off Packard Street.
"Even the former single-family houses and things like that, they're all going to six-bedroom units," he said.
"It's not like we're limiting five- and six-bedrooms — we're just raising the lot area required for them," Kowalski added. "So you can still do them, you just need more lot area."
Council Member and Planning Commissioner Tony Derezinski, D-2nd Ward, sponsored the resolution in early 2009 that directed the Planning Commission and staff to work with the public to provide council with a report on potential zoning changes in the Central Area.
Ryan J. Stanton | AnnArbor.com
"I think there's a lot of interest in what's going on here," Derezinski said. "I think the product ultimately is going to be changes in the zoning ordinance, because this is a lot of work if it's just another report on the shelf, and nobody wants that."
The city's R4C (multiple-family dwelling) and R2A (two-family dwelling) zoning districts were established in 1963.
Although the original charge was to take a look at both R4C and R2A, Kowalski said, it was discovered that a lot of the issues of concern aren't necessarily in the R2A neighborhoods. And so the report focuses almost exclusively on fixes to the city's R4C zoning.
"R4C really is a broken district," said Planning Manager Wendy Rampson.
Kowalski acknowledged there are a lot of other issues within the R4C neighborhoods that the report doesn't address because the committee didn't have the time or because it wasn't the mission. He mentioned concerns about trash and noise from student parties.
The Planning Commission heard from Ethel Potts and Wendy Carman, two of the 12 members of the advisory committee, during Tuesday's working session.
Carman said the existing zoning imposed on R4C neighborhoods unfortunately made it so property owners and developers had to combine lots in order to build something new, and that meant tearing down or changing the character of the neighborhood.
"The committee and the community were absolutely unanimous in trying to preserve the character, the streetscape of what's there," she said. "We wanted to reduce the incentive for six-bedroom apartments because they're really only usable for students."
The advisory committee recommends no changes be made to the setbacks or required open space for the R4C district. It believes maintaining existing setback requirements will help reduce the scale of new construction and additions by maintaining open space and preventing larger additions closer to the property line on some existing non-conforming structures.
"At some point, the report is what it is," Potts said. "I think it would not be hard for you to go directly from the report to ordinance revisions."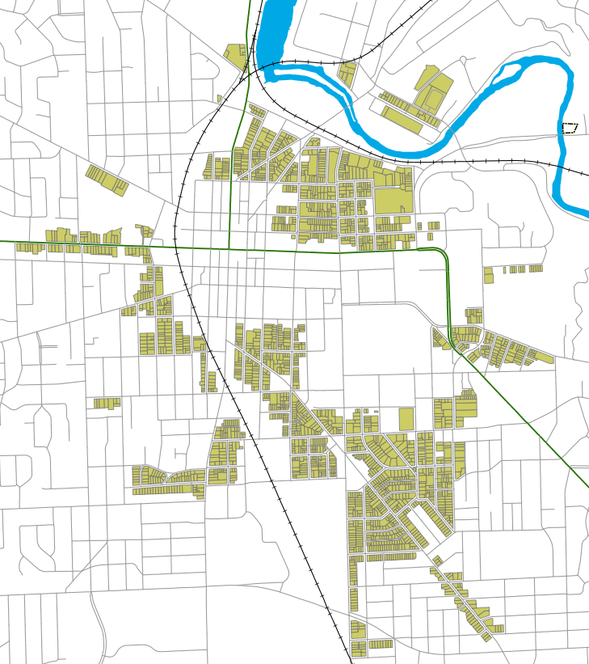 Courtesy of city of Ann Arbor
Ryan J. Stanton covers government and politics for AnnArbor.com. Reach him at ryanstanton@annarbor.com or 734-623-2529. You also can follow him on Twitter or subscribe to AnnArbor.com's email newsletters.