Posted on
Mon, Aug 23, 2010 : 6 a.m.
Thinking of getting a motorbike? A guide to get your motor running
By Pam Blakeley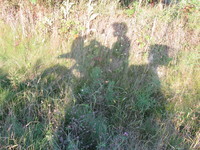 Standing in line at a grocery store a while ago, the bagger glanced at my motorbike gear. "Are you a really good rider?" he asked. I paused from emptying my basket, and said "well, I'm still alive," causing a few raised eyebrows and chuckles. He laughed, then said how he would love to get a motorbike 'some day.'
'Some day.' Not the first time I've heard that phrase from folks who gaze wistfully at my bike and continue to list all the reasons of why they are still driving cages (motorcyclist's lingo for cars). Reasons range from safety issues to endorsement processes, and why invest in something you can ride only 3 months of the year?
I've been riding for a long time, and yes, I've had a few mishaps, but like I told the bagger, I'm still alive. As for licensing - smother that excuse by taking the three-day, inexpensive (roughly $25) community college MSF Classes, taught by Motorcycle Safety Foundation instructors. Lastly, have I mentioned the only month I didn't ride this year was January?
Why go to all this effort? Remember your first bike as a kid? The sense of freedom, the breeze on your face, the portability, ease, and simple enjoyment of the act of riding? Those are all reasons why motorcycling is rising in popularity. Add to these the sheer economics - a five-hour trip up north can cost as little as $30 in gas, leaving you with more dunkets in your pocket to play.
To everyone's surprise, the biggest growth is women entering into motorbiking in their later years. In 2008, statistics show that that 25 million people actively ride, and 23 percent of the 25 million are women. In fact, my sister (50), and a friend of mine (45) just got their endorsements in June - by the end of the month both had bought bikes, and happily ditched their cars in the garage. Sister chose a 250 cruiser, friend chose a lowered 650 dual sport- both have discovered that *riding* to work made *going* to work much more enjoyable.
The most frequently asked questions from freshly endorsed, interested riders is what kind of bike should they get. One of the advantages of taking a MSF Basic Rider Course is they have a variety of bikes they supply, and picking a different style of bike during the range training enables new riders to sample everything from a dirtbike to a 'naked' bike, to a cruiser. Don't look for 'crotch rockets' though, a simple blip of the throttle can send a new rider to the moon.
My advice is to determine what your riding goals are. Are you the type of rider to kick back and take a leisurely ride, or do you get excited by the thought of dragging pegs someday on the twisties like Tail of the Dragon in Tennessee? Perhaps you look at narrow dirt roads, headed deep into the woods, and wonder where they go.
These riding styles all dictate the type of bike, as well as the displacement (engine size) that's best suited to you. Go to motorbike dealerships, talk with other riders, and any time you have an opportunity to test ride a bike, do so. Many dealerships have open houses, (Southeast Michigan BMW has an open house Oct. 2) where they have demo bikes available and sponsor longer group test rides. If you're newly endorsed, it's natural to gravitate toward smaller bikes, however once you've gotten some seat hours in, you'll want to bump up to a bigger bike. A little warning, though, just like trading in your first bicycle as a kid, it tugs on your heartstrings to give up your first motorbike, hence those of us with MBS (Multiple Bike Syndrome.) Don't say I didn't warn ya!
Increasingly more clubs are forming that cater to virtually every aspect of riding - from local rides to global networks that a rider can find support (and a place to stay), in far flung locations. While group riding is a whole new set of skills, it is fun to hang with like-minded people, and it's a way to learn new skills, figure out how to do simple repairs yourself, and find riding partners. At the end of every column I'll list a few clubs/organizations of interest.
It's my goal to provide some great reasons for those of you who are thinking about getting involved in motorbiking, to answer your questions through my own experiences as well as others in the community, and to share great riding opportunities with those of you who already keep the shiny side up and the rubber side down.
Michigan has a plethora of riding opportunities, from dirt roads and tiny towns to majestic bridges and big cities, and a motorbike is undeniably the best way to explore them all.
Feel free to e-mail questions or suggestions. Until then, keep your knees in the breeze and outta the trees!
Women on Wheels Women RIders Now Harley Davidson Riders Edge BMW Riders Association ADVRider Two Wheel Female