Posted on
Mon, Jul 25, 2011 : 1:35 a.m.
A king salmon fishing trip near Frankfort made even more memorable by fine companions
By Rick Taylor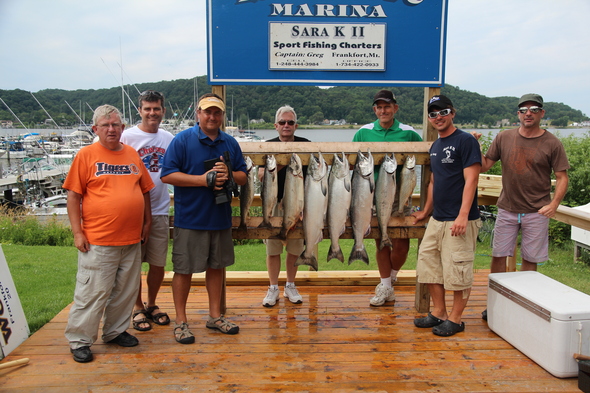 Rick Taylor | Contributor
I won a salmon fishing trip from Michigan Out of Doors (MOOD) TV last fall. Little did I know that I'd share this amazing experience with four great guys. Any of these guys would have made a great story, so sharing this fishing trip with all four guys was simply amazing.
Jimmy Gretzinger, Bill Harmer, Captain Greg Sheremeta and Bob Young are those four guys and I'd like to talk about how they made our fishing experience extraordinary.
Many of you may know Bill Harmer as the director of the Chelsea District Library. Bill and I have collaborated on various projects in Chelsea for the last few years, and we're both in Rotary International.
Bill is anything but one-dimensional. He's a happily married man with three awesome kids; he loves rock and roll; he raced sail boats for years, enjoys NASCAR races and gets along with almost everyone in Chelsea. Bill is an amazingly focused and driven person who's passionate in his profession. Just walk into the library, and you'll see a state-of-the-art facility that rivals most large city institutions.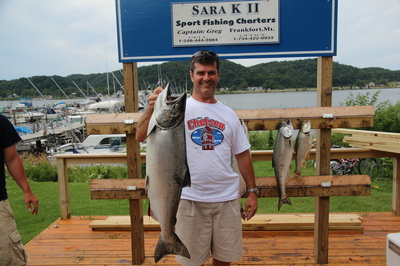 Rick Taylor poses with his 20-pound King Salmon.
I had one available spot for this fishing trip. No, Bill wasn't my first choice or my second. My wife and son were, but logistically, we couldn't work it out. However, I knew that Bill wasn't into the outdoors the way I was. I thought he might actually get a kick out of this, so I asked if he'd like to come. Of course he said yes! Even Bill knew a good time when he saw it.
Frankfort is located about an hour south of Traverse City and not easy to reach. The drive takes about four hours and that's if you're carrying the mail. Bill's love for rock and roll actually helped me in asking him to come along.
I too am a fan of many genres of music, rock being one of my favorites. Let's face it — four hours in each direction is a long time to be sitting next to someone, so you might as well try to find someone with similar music tastes.
We made the four-hour trip without incident and looked forward to stretching our legs. Jimmy Gretzinger, host of MOOD TV was waiting for us, and we headed into town for dinner and a few beers. Jimmy liked this pub called Dinghy's, so we all jumped in his truck and were ordering drinks and food before you knew it.
Jimmy bought the rights to MOOD TV show from Michigan United Conservation Clubs and has done a valiant job of ensuring a wonderful experience for the viewers. It was nice to see Jimmy relax from his duties as TV host and talk about his love of the outdoors, work and his wife and kids. Let us not forget that Jimmy is a huge Jimmy Buffet fan and knows the words to every song that Mr. Buffet ever played.
We left Dinghy's after a couple hours and made our way to the marina; it was approaching 10 p.m. We enjoyed watching the boats come back with their limits of king salmon and lake trout. We had the opportunity to meet our boat captain by the name of Greg Sheremeta. Greg was happy to meet up with us as he discussed their catch of the day. We soon called it a day ourselves and made our way back to the motel.
Bill and I were pretty excited for our chance to try our luck at catching fish early the next morning. However, trying to sleep well wasn't going to be easy with our accommodations. Our room smelled like mildew, my bed was shaped like a canoe, and little did I know our alarm clock wouldn't wake us up the next morning!
My alarm sounded a lot like my cell phone. Why was my cell phone ringing? It was Jimmy on the other end telling me that everyone was at the marina waiting on Bill and I. Oh explitive… let's just say we made it to the marina in seven minutes.
Bill and I hauled our butts onto the boat and we were heading out to the open waters of Lake Michigan. We met up with three other fisherman; one in particular is the current chief of colice for Williamston, Mich. Bob Young has been the chief of police for a little over a year and is arguably one of the coolest police officers I ever met. He wasn't pretentious, rude or bossy.
He was just so happy to be here and was looking forward to catching some fish while hanging out with us. Bob was approachable, funny and so easy going. Bob talked about how he loved his community of Williamston and how good they've been to him.
Jimmy Gretzinger filming Bill Harmer reeling in his first King Salmon.
Boat Captain Greg Sheremeta is a United States Coast Guard Master Captain and has years of experience on the water in our Great Lakes. He's always wearing a smile and also very approachable. Greg donated his time, boat, fuel and fishing gear because he's a big fan of Jimmy's show. Greg deserves a hand because the fuel expenses alone are ridiculous for such a trip.
Greg is only 24 years and yes, he looks it too. But don't let that fool you. He can maneuver the boat like a magician and he also put us on the fish immediately. Thanks for everything Greg; your services were outstanding and very much appreciated by all of us.
The water was calm as we motored out about three miles from the Frankfort marina. I could count 51 other boats we'd be competing with, even though it was only 5:30 a.m.
The fourth rod was being tended to when we heard that unmistakable "zing" from one of the reels. "Fish on!" yelled Captain Greg. "Who's going to take this rod?" he asked.
There was a three or four second delay before I pushed Bill forward to the rod and reel. Bill was nervous, but the rest of us had previous fishing experience, unlike Bill.
Greg handed Bill the rod and gave some good advice that most of us fishermen already know; pull up and reel down.
Bill got the hang of it fairly quickly, and Jimmy got out his video camera to catch the action as it happened. The rest of us hung back while Bill feverishly reeled in what would be the largest fish of the day. Bill successfully brought in a 20-pound king salmon, and all on board were congratulating him on his very first salmon and largest catch ever.
We were taking pictures of Bill and his fish when another reel started screaming. "Fish on!" yelled Captain Greg. I was handed the rod and brought in a gorgeous king salmon within a few minutes. Wow, what a morning.
All of us had fish in the boat within an hour and we couldn't have been happier. We had some down time to discuss our catches and previous experiences. We simply had a great time fishing and getting to know each other.
But, like all good things, our time had to end, and we called it a day. We shared information with each other and vowed to do this again sometime. Man, I sure hope we can actually follow through with that because I had the best time with these guys. The best part is that we can relive this experience on MOOD TV in a few weeks as it will go to air on your local PBS station.
We tipped Captain Greg and his first mate and made our way back home. For four hours Bill and I laughed about the good times we had. I called my wife, and she prepared a marinade for the salmon; we were having salmon for dinner with her mom, brother and his wife and kids.
We pulled into the driveway of my home, and I introduced Bill to my in-laws. Bill and I told them the abbreviated version of our fishing trip, and they loved it.
Just then my phone rang; it was my friend Norm O'Connor's home number, and I excused myself from the group. I answered the phone and it was Erma on the other end.
I was giddy due to the lack of sleep, long drive and fishing experience, but I could tell in her tone that bad news was coming, and I said "Oh no." She said "I'm sorry Rick but Norm passed away earlier this morning and I wanted you to know."
It turns out that Norm passed away while we were on the boat having the fishing experience of a lifetime. I'd like to think that Norm was on the boat with us.
This story is dedicated in memory of Norm O'Connor; a friend, family man and above all else a true fun lover.
If you'd like to use Captain Greg on your next fishing trip on Lake Michigan, his website is www.sarakfishingcharters.com and his phone number is 248-444-3984.
Your comments and story ideas are warmly welcomed. Rick can be reached at rtaylor@reinhartrealtors.com or by cell at 734-223-5656.