Posted on
Sun, Jan 30, 2011 : 6:12 a.m.
Balancing family and friends, public and private at Chinese New Year's
By Frances Kai-Hwa Wang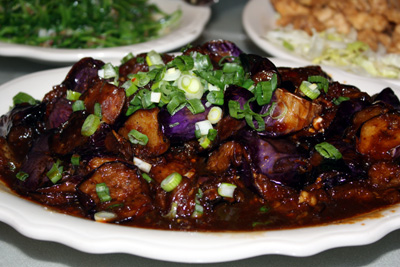 I woke up early on the first Sunday of the year and stumbled about my kitchen, dirty dishes from New Year's Eve still piled up, thinking that I should call Mr. Aramaki in a thinly-veiled attempt to get invited to Oshougatsu (Japanese New Year's) at his house or to get him to invite me to tag along with him to the Shimouras' Oshougatsu. I think about this every year on New Year's Day as I do not really know where else to go. I am not enmeshed in the Japanese American community here as I am in California. Japanese New Year's is big, going from house to house, eating oneself into oblivion on ozoni, sushi, sashimi, tempura, gobo, namasu, mochi…
Then (sound effect of a record screeching to a halt), I realized that it was Jan. 2, and I had missed New Year's Day completely.
Doh!
But that's ok. I still have Chinese New Year's on Feb. 3 this year.
Of course, that is what I always say about my Christmas letter that never gets out, "I'll send it out at New Year's." Then Chinese New Year's (February)…Tibetan New Year's (March)…Nepali New Year's (April)…
Usually I am too overwhelmed at this time of year to be able to do anything more than scrounge for a few scraps of leftover pizza or cold dumplings backstage at yet another Chinese New Year's celebration. I walk around dazed in my red "Chinese lady costume" after giving another presentation about Chinese New Year's traditions, wishing someone would just feed me, take care of me, prop me up so I do not collapse from exhaustion. The kids know all the things we are "supposed" to do, from burning the kitchen god to scaring away the old year to honoring our ancestors (because they have heard my presentation so many times), but often it takes us some days to get around to everything. Meanwhile, we forage for our food.
Still, when Chinese New Year's Eve comes around, I always yearn to do something, anything, to balance family and friends, public and private, tradition and innovation.
This year we are introducing Chinese New Year's Eve dinner to a few non-Chinese friends, a motley collection of characters, but sure to be entertaining. My friend Big Garry calls them my harem of admirers. Hey, writing's a tough business. I need all the admirers I can get. My daughter Hao Hao has already prepared a menu of her favorite Chinese New Year's Eve dishes that she wants me to cook — whole steamed fish, garlic eggplant, whole-family chicken, all-you-wish-for soybean sprouts, pearl balls, fortunes-rise-higher-in-the-new-year cakes.
One new friend is perplexed, "Why are you always trying to feed me?"
"I can't help myself," I quip. "I'm Chinese. That's what we do. We feed people."
In contrast, the Chinese New Year's celebration at our Chinese school is the one that we count as ours, the one that is the most meaningful for us, the one most like the extended family affair it ought to be (think Thanksgiving plus Christmas/Chanukah plus New Year's). The Chinese school community is our family here. We have known each other since our children were 3 years old; our children have grown up together. After months of rehearsals, our children perform songs, dances, skits, guzheng, erhu, lion dance, Chinese yoyo, more. Everyone is dressed up, and the food is fabulous.
At the end of the night, responsibilities over, we linger around our big round tables — adults with adults, kids with kids — still eating, still talking, still laughing, finally able to stop running and enjoy each other as family.
Frances Kai-Hwa Wang is a second-generation Chinese American from California who now divides her time between Ann Arbor and the Big Island of Hawaii. She is an editor of IMDiversity.com Asian American Village, lead multicultural contributor for AnnArbor.com and a contributor for New America Media's Ethnoblog. She is on the Advisory Board of American Citizens for Justice. She team-teaches "Asian Pacific American History and the Law" at University of Michigan and University of Michigan Dearborn. She is a popular speaker on Asian Pacific American and multicultural issues. Check out her website at franceskaihwawang.com, her blog at franceskaihwawang.blogspot.com, and she can be reached at fkwang888@gmail.com.