Posted on
Tue, Mar 15, 2011 : 10:10 a.m.
A non-camper feels like a kid again at Camp Michigania
By Rick Taylor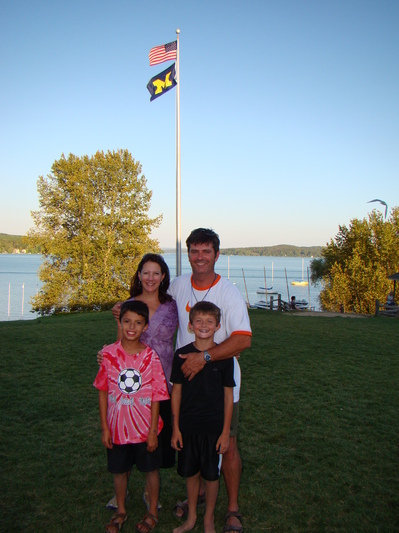 Our family didn't go on vacations when I was growing up in Canada.
My dad worked very hard and spent a great deal of time working out of town as an electrical lineman. He even worked in Libya for two months at a time over a three-year period from 1977 to 1980.
My dad and I had a special relationship when I was growing up. He would quietly wake me up at 4:30 a.m. while my older brothers slept. I'd help make poached eggs for breakfast before he went into work.
Bedtime didn't stop me from watching the headlights of the cars driving by at night; hoping each car might be him about to pull into the driveway after a long day at work. Eventually, one of those high beams would turn into our driveway and I'd race out of my bedroom to see my dad once again; even if only for a little while.
I think about the love I have for my dad, even to this day, and it never wanes. We didn't play catch growing up, and he never saw me playing sports at school.
He, like so many other dads were too busy with work. I must confess that I'm sometimes bitter toward my dad; however, I am grateful for the roof he put over our heads and food he put on our table.
I'm a father now, and I have a greater respect for what my dad went through all those years ago. He was raising five kids on his income alone; few could accomplish this in today's economy.
Fast forward 33 years, and my fiancée wanted me to join her and her son Joseph last August at Camp Michigania, located about 15 minutes from Petoskey.
Shelley received her master's degree from the University of Michigan and has gone to Camp Michigania over the years. Camp Michigania, incidentally, is only open to members of the University of Michigan Alumni Association. I never had the opportunity to go to camp as a kid, and I felt too old to start now. I thought the "magic" of going to camp wouldn't exist for me at this age. But, Shelley convinced me that Ricky and I would love it.
It was August, and we packed everything up in my Grand Cherokee. My real estate broker was kind enough to manage my business while I was gone — no easy task considering I had six deals going simultaneously. This business alone made me question whether I should go or not, but off we went.
Michigania offers trap shooting, so I brought up the 12 gauge shotgun not to mention two fly rods just in case the local rivers were holding trout.
You can just imagine how crazy the boys were as we approached camp along with my fiancée, who was seven months pregnant at the time. We registered upon arrival and began the arduous task of unloading the vehicle. I was already looking forward to relaxing on the porch after putting the kids to bed that evening.
There are a multitude of activities offered at Camp Michigania, such as: sailing, horse back riding, archery, trap shooting, nature center, boat tours, yoga classes, etc…the list goes on and on.
The cabin we stayed in was awesome, with two separate bedrooms and a full bathroom.
I brought along my favorite book, "Jonathan Livingston Seagull" written by Richard Bach, to read to the boys each night. I only hoped Ricky and Joseph might enjoy it as I did growing up.
We woke up early the next morning, and the boys went to their scheduled events while I decided to learn how to sail.
We enjoyed many things at camp, and I was so happy for Ricky to experience it for the first time. I learned how to sail and even took second place in the regatta; who knew? I enjoyed shooting trap, hanging out at the beach, eating like royalty and playing with my family.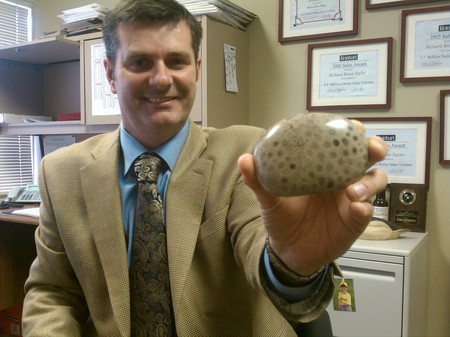 Something magical happened when I made my way into the Nature Center. The wet belt sanders got my attention right away and I began to smile. I saw a room full of people, both young and old, sanding rocks on the belt sanders and polishing wheels.
What were they polishing? I kept asking myself. The instructor came up to me and asked if I'd like to polish Petoskey stones. Petoskey stones, really? It took only a second to see how beautiful they were in the hands of the experienced polishers in the room.
Petoskey stones are only found in Michigan; they are fossilized coral from 350 million years ago. The Petoskey stone is the official Michigan's State Stone.
I put on the rubber apron and went to work on the wet belt sander. My hands gripped the Petoskey stone tightly as I rolled it back and forth on the belt sander. Water would splash off my face and safety goggles, but I wasn't deterred. I instantly fell in love with rock polishing, specifically polishing Petoskey stones.
I worked on that stone until they closed the building down for the day, and I couldn't wait for it to open the next morning! The instructor told me of a quarry where I could find my own Petoskey stones about 10 minutes from camp.
Shelley saw the glimmer in my eye, and she joyfully told me to have fun at the quarry. I got in my car and followed the hand-drawn directions full of anticipation.
I soon found the quarry and parked my car. I began climbing the extremely steep bluffs and perilously made my way higher and higher. It took about 15 minutes before I found my first Petoskey stone. It didn't take long before I found my second stone, and then another.
For three hours, I felt like a kid again. I didn't think about my messed up right knee; heck it didn't even hurt. I didn't worry about my real estate deals, retirement accounts or anything else for that matter.
I simply had the most carefree time walking the bluffs of Petoskey all by myself. It was a moving experience that I'll treasure for the rest of my life.
I couldn't wait to get back and work on my treasure find, and work I did for the remainder of our trip.
Sadly, my dad wasn't here to experience these joyous experiences with us. He's still alive working harder than ever because his work controls his life. But, I still love him more than words can say.
I hope he can slow down enough to find joy in his life someday. Heck, I might even invite him along, and he might even say yes; that's the optimist in me.

I can't thank Shelley enough for inviting me to Camp Michigania. Furthermore, we just got confirmed to go again this summer during the eighth week.
Camp came late to me in life, but I can honestly say that it's better late than never!
Your story ideas and comments are warmly welcomed. Rick can be reached at 734-223-5656, or visit his website: ricktaylorrealestate.com.