Posted on
Tue, Apr 5, 2011 : 10 a.m.
Competitive archery and other accomplishments are easier with some friendly mentoring
By Rick Taylor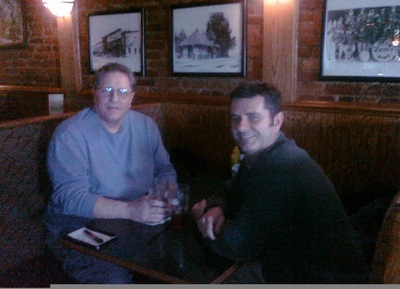 The Novi Expo is one of the largest Outdoor Shows in the country, and it was in full swing. There were thousands of people milling about along with outdoor vendors showing off their products. I remember how difficult it was to find a parking spot, let alone the long walk to the main doors.
I got a few stares and double takes as I made my way inside this expansive building carrying my cased longbow and wooden arrows. The announcer came over the overhead speakers and promoted the fishing equipment and camping areas.
What impressed me the most were the outfitters that came from all over the world in the hopes of snagging a few Michigan dollars.
The announcer spoke again, thanking everyone for coming to the 1995 Novi Expo and asked all archers to make their way to the back of the building. I was so nervous as I made my way through the crowds of people. I was attempting to qualify for the upcoming World Championships sponsored by the International Bowhunting Organization.
I finally broke free from the main area and was among a sea of archers watching fellow competitors on the shooting line. "Who am I kidding," I thought to myself as my nervousness turned into a near panic.
I got in line with the other archers and finally made it to the registration table. I paid my entry fee and waited for my turn to shoot. An older gentleman who worked the event took the time to ask if I had any questions. He could tell I was nervous and helped me gather my wits. He explained the rules and then told me not to worry about anything. And that's when it happened.
He pointed out this tall guy already on the shooting line. "That's Bill Powell", the man said. "He's an excellent archer and always does well."
And, just like that, I hated Bill Powell. I had to hate him because he was my competition.
I watched Bill shoot the rest of his targets and turn in his score card. I wanted to meet my adversary so I slowly made my way up to him and introduced myself.
Well, I learned two things that day. The first is that Bill was amazingly gracious and easy to talk to. The second was that Bill and I shoot in different divisions; he shoots the recurve class, and I shoot the long bow class.
Bill suggested we shoot upcoming archery competitions together, and that sounded good to me. Little did I know that we'd shoot hundreds of times together over the years. Whew… talk about an auspicious beginning to a wonderful friendship that has lasted many years.
Bill is an amazing archer to say the least. More importantly, he's the most humble archer I know. He never talks about his accomplishments and they are many.
Most recently, Bill stood tallest on the podium winning the Gold Medal at the 2009 National Senior Olympics, held near San Francisco, Calif. Bill not only took the gold but he also shattered the national record.
Bill has also won the IBO Indoor World Championships three times; that's right — three times. The list goes on and on. I too, have won a World Championship and numerous State Champions. However, all my titles came as a direct result of Bill's mentoring ability.
To say we have many fond memories would be an understatement. We've travelled many miles together shooting some of the toughest tournaments and have hunted together as well. Bill's a fantastic mentor and friend. We've hunted javelina and mule deer in Arizona along with whitetail deer throughout Michigan.
One of our funniest memories occurred on a javelina hunt many years ago.
There's nothing barren about the Arizona desert. There are mountains, draws and many species of cacti, including the majestic saguaro cactus.
Bill and I were quietly stalking the desert when I suddenly felt this unimaginable pain in my right elbow. I quickly looked over and saw a chunk of "jumping cactus" that had embedded in my elbow. The pain was so intense that my right elbow became immobilized. I called Bill on the radio and asked him to help me remove the cactus from my elbow.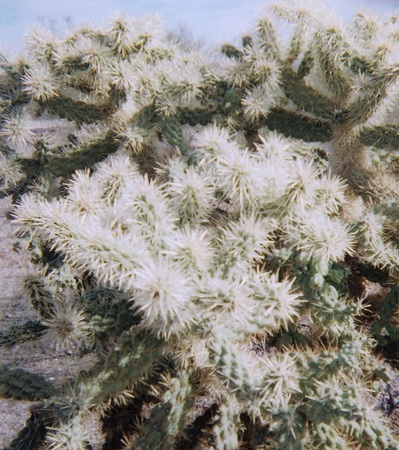 However, I forgot we had a group of hunters with us that could also hear my pleading on the radio. I learned they got a pretty good laugh from my cactus crisis.
Bill came on over with a smirk on his face and opened up his multi tool. He, too, was amused by my predicament; well that was until his pliers slipped off a 1.5-inch thorn burrowed in my elbow. They actually made this horrible "popping" sound as he jerked them out of my elbow. Its funny thinking about it now, but it sure wasn't funny at the time.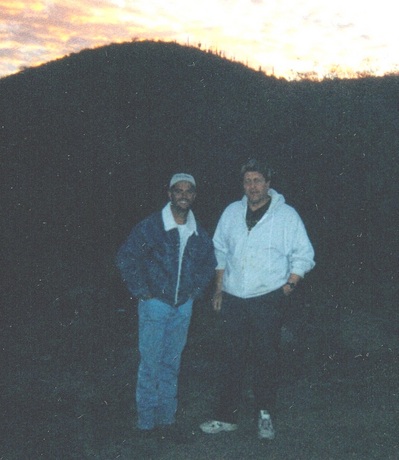 Bill had worked as an Inspector for Northwest Airlines but had to retire in 2005 due to NWA's financial problems.
If you think your job is tough then listen to this. Bill had to certify that commercial jets were safe to fly after the airline mechanics worked on them. Bill would use ultrasound, X-rays, visual inspections, etc. before making the determination that a plane was good to go. I cannot imagine that kind of responsibility.
Bill took early retirement from NWA and now works for Kalitta Air, owned by legendary drag-racer Connie Kalitta.
Sadly, this necessary decision halted our ability to shoot together like we had for so many years. But, that's life isn't it?
My life has also changed on many levels. I was a single dad for eight years until finding love again, and I'm newly married. I haven't shot competitive archery in 11 years. But, the reality is that I'm okay with that.
I'm glad to take on the role as a father and wouldn't want it any other way. I may even consider shooting competitively again when my kids are older and out of school; who knows.
The one thing I do know is that I dearly miss my friend and mentor.
I met up with Bill at the Dexter Pub in order to write this story. Bill was coming down here to have minor eye surgery, and we took this opportunity to catch up on things and joke about the old times.
Bill told me that he's currently working with the 4-H Club in Mio; they're putting together an archery program for the kids up there. They're still working on a building so they can shoot indoors in the winter time.
Bill and I are talking about doing another javelina hunt in Arizona; I'll make sure to stay away from the cactus this time.
I'd like to thank Bill for his friendship, both on and off the archery course. If you have a talent and want to share your experience with someone, then please consider doing so. I never would have done as well in my archery accomplishments without Bill's help.
Your comments and story ideas are always welcome. Feel free to call Rick at 734-223-5656 or email him at rtaylor@reinhartrealtors.com.