Posted on
Thu, Apr 28, 2011 : 11:44 a.m.
Cult of Celebrity: Political pop stars
By Wayne Baker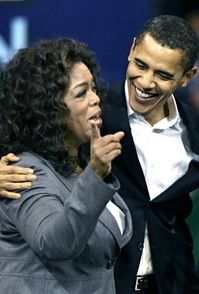 Photo courtesy of Wikimedia Commons.
Editor's note: This post is part of a series by Dr. Baker on Our Values about core American values. This week Dr. Baker is discussing the cultural obsession with celebrities, what it means, what values it represents, and even the function it may serve.
Do you remember McCain's attack ads that likened Obama to Paris Hilton or Britney Spears? Or the one that implied Obama had a messiah complex — and included a cameo of the late Charlton Heston as Moses parting the Red Sea? As we described in 2008, these were messages that said the only asset Obama had was celebrity.
Conservatives are still trying to play the clueless celebrity card. In Fox Nation, Steven Crowder said, "What is important is that we remember this: Barack Obama the politician was never elected to office. Barack Obama the celebrity was… He had one thing that no other candidate had and that was his status as a pop-culture icon. That's his game-changer, his golden ticket, and against The Donald, Barack Obama loses the only trump card he's ever had."
Do you think Obama won because he was a pop-culture icon, a celebrity? Could The Donald's celebrity status beat Obama's? Celebrity can go a long way in America. And a celebrity from outside the political establishment can be the object of wish fulfillment. Forty-three percent of American voters believe that most members of Congress are corrupt, according to a new Rasmussen Reports poll. Only 27 percent disagree. With that level of distrust, an outsider fulfills our wish for someone who is above it all and who can come in to save the day.
Entertainment celebrities have been elected to high office before: Jesse Ventura, Arnold Schwarzenegger, Al Franken, and Ronald Reagan. It's possible that Donald Trump would have a chance, but I doubt it.
Yet more than a third of American voters (34 percent) say they would support Trump over Obama, according to another Rasmussen Reports survey. The president gets 49 percent in this hypothetical match-up. Among Republicans only, The Donald gets 65 percent.
Even celebrities who don't run for political office find themselves swept up in the world of celebrity political endorsements.
Oprah Winfrey is #1 — the most powerful celebrity in the world, according to Forbes' Celebrity 100. (Lady Gaga, who we discussed Monday, is #4.) Getting an endorsement from Oprah is a book author's fondest dream come true. But could it also be a presidential candidate's dream endorsement?
The Empress of Media endorsed then-Senator Obama in the 2008 election. And her endorsement produced results, according to economists.Oprah's endorsement significantly increased voter turnout in the Democratic primaries, and increased campaign contributions. And, it also got the vote for Obama: 1,015,559 votes, to be precise, by one expert estimate. That allowed him to win the nomination over Hillary Clinton.
So, will Oprah endorse the president in the 2012 elections? Not this time, according to sources. Her daily talk show ratings took a hit in 2008 after the endorsement, and polls showed that her favorable ratings fell from 74 percent to 66 percent. Now that she has a new program, OWN, she can't take the chance.
Celebrity endorsements can really matter. That's part of the cult of celebrity.
And, celebrities endorse everything: what we buy, what we eat, which charitable causes we support, which policies we advocate — and even who we vote for.
Do celebrity endorsements matter to you?
What do you think of Oprah and Obama in 2012?
What about "The Donald" vs. Obama after this week's news?
Dr. Wayne E. Baker is a sociologist on the faculty of the University of Michigan Ross School of Business. Baker blogs daily at Our Values and can be reached at ourvaluesproject@gmail.com or on Facebook.